Thank You for Joining The Hillbilly Housewife Newsletter
Thank you for joining the Hillbilly Housewife Newsletter. You will receive a confirmation email in your inbox shortly. Please confirm by clicking on the link provided and so we can get started.
Once your subscription is confirmed, I'll email you the family budgeting report right away. After that you will start receiving the Hillbilly Housewife Newsletter Updates.
Homemade Mixes – Make It Yourself and Save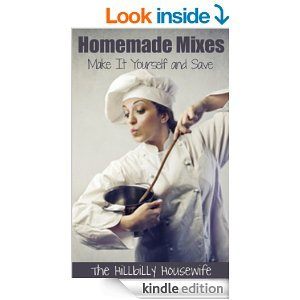 Making your own mix from scratch rather than buying it in the store not only saves you money but also saves you from all the additives and preservatives that are put in the foods we buy. The recipes include:
Apple Pie Spice Mix
Basic Muffin Mix
Brownie Mix
Caribbean Jerk Seasoning
Chocolate Chip Cookie Mix
Corn Bread Mix
Cream of Soup Mix
Fajita Seasoning
Fish Fry Coating Mix
Fruited Oatmeal Mix
Homemade Taco Seasoning Mix
Homemade Vanilla Chai Tea Mix
Thanks again for signing up for the newsletter.
Warm Regards,
Susanne – The Hillbilly Housewife
Disclosure: Some of the links below are affilate links, meaning, at no additional cost to you, I will earn a commission if you click through and make a purchase.