MOST POPULAR RECIPES:
And having food and raiment let us be therewith content.
Spicy Oven Fried Chicken
Click to Print This Recipe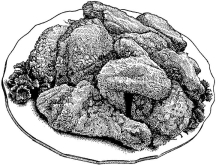 3 lbs chicken leg-quarters, skin and visible fat removed (about 4 leg-quarters)
1 cup reconstituted milk
1/2 cup whole-wheat flour or white flour
1 tablespoon onion powder
1 teaspoon garlic powder
1 teaspoon paprika
1/2 teaspoon salt
1/2 teaspoon poultry seasoning
1/4 teaspoon black pepper
1/4 teaspoon cayenne pepper
Non-stick Spray
Preheat the oven to 350°. Yank the skin off of the chicken. If desired you may cut the legs from the thighs. Use a sharp knife or kitchen shears to snip away all of the visible fat. Place the chicken in a sturdy plastic bag or a bowl. Pour in the milk. Allow the chicken to marinate for at least 1 hour or up to 24 hours. After marinating, drain and discard the milk.

To make the seasoning mix combine the flour and seasonings in an empty bread bag. Shake to combine. Place 1 or 2 pieces of chicken in the bag. Twist the top and shake to coat. Arrange the coated chicken in a 9 by 13-inch baking pan that has been coated with non-stick spray. Continue until all of the chicken is coated. Lightly spray the tops of the chicken with non-stick spray. Bake the chicken at 350° for an hour. Allow the chicken to cool for 10 minutes before serving. Makes 4 servings.

Per Serving: 223 Calories; 7g Fat (30.4% calories from fat); 25g Protein; 14g Carbohydrate; 2g Dietary Fiber; 78mg Cholesterol; 349mg Sodium. Exchanges: 1 Grain(Starch); 3 Lean Meat.