Slow Cooker Rice Pudding Recipe
I have tried many times to make slow cooker rice pudding and it always turns out dry and Ugh tasting. I'm looking for a recipe that is creamy and yummy! Comfort food at its finest!
From the Hillbilly Housewife:
Here's my slow cooker rice pudding recipe. The first time you make it, keep an eye on it. If it starts to look too dry, add a little extra milk and keep an eye on the cooking time too. Every type of rice and every type of slow cooker cook this a little different. It may take yours a little more milk and a little less cooking time. Keep track of what works for you and modify the recipe accordingly.
Crockpot Rice Pudding
Author:
Prep time:
Cook time:
Total time:
Ingredients
3/4 cup long grain rice
3 cups milk
3/4 cup sugar
2 Tbsp. butter
1 tsp. vanilla extract
1/2 tsp. cinnamon
1/4 tsp. salt
Instructions
Spray the slow cooker with non-stick cooking spray.
Combine all ingredients in the slow cooker. Cook on high 2-3 hours or low 4-5 hours.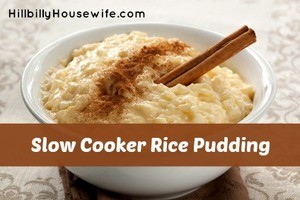 Disclosure: Some of the links below are affilate links, meaning, at no additional cost to you, I will earn a commission if you click through and make a purchase.