Rapid Cycle Raisin Bread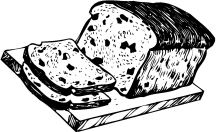 1-2/3 cups warm tap water
2 tablespoon vegetable oil
4 1/2 cups bread flour or all-purpose flour
2 tablespoons dry milk powder
1-1/2 teaspoons salt
1-1/2 teaspoons cinnamon
1/3  cup sugar
2 teaspoons bread machine yeast
1 cup raisins
Measure the ingredients (except the raisins) into the bread pan in the order listed. Make a well in the flour and sprinkle the yeast into it. Set the machine to it's Rapid or Quick Cycle. On my machine this lasts for 80 minutes, or 1-1/3 hours. After the dough has kneaded for 10 minutes, add the raisins. I use my kitchen timer to tell me when ten minutes is up. Let the machine work it's magic. Remove the cooked bread from the pan after baking and allow it to cool before slicing.
This recipe is very soft when it is first baked. I especially like it with ricotta or neufchatel cheese spread on it. It also toasts very nicely, and makes excellent French Toast. I find that Apple Butter has a special affinity for most types of raisin bread. Try it, and you'll probably agree. Makes a 2 lb loaf.
Disclosure: Some of the links below are affilate links, meaning, at no additional cost to you, I will earn a commission if you click through and make a purchase.