Pans - Crust - Sauce - Cheese - Vegetarian Toppings - Spincah Alfredo Pizza - Meat Toppings
Pizza is an incredibly versatile food with great kid appeal. Best of all, using

the recipes and techniques on this page you'll be able to make a large pizza with the works for less than $3!
Home made pizza differs a little bit from the delivery and frozen varieties. Made at home, pizza is less greasy, the flavor is usually fresher, and the texture of the crust is a little different, to my taste buds, much better. There is a plethora of choices for inexpensive toppings at home, and we'll get to them in a minute. In order to explain this as simply as I can though, I will start at the bottom and work my way up to the toppings. First come the:
Pans: You don't need round pizza pans to make homemade pizza. Any ordinary rectangular pan will work just as well.

Pizza dough doesn't know what shape it is supposed to be, so you can use this to your advantange, making your pizza in a combination of pans you already own. With that said, I must confess that I use round pizza pans which I found on sale once for $2 a piece. My children had been covetting round pizza for so long, that when I saw them I went ahead and bought them. My pans are about 16-inches in diameter. This is equivalent to a large delivery pizza. I almost always make two at a time so I will have enough leftovers for lunch boxes the next day. My recipes are geared for two 16-inch round pizzas, or two 9 by 13-inch rectangular baking pans. Use whatever sized pans you find lurking in the cabinet. If you are making individual pizzas for a bevy of boy scouts or a gaggle of girl scouts, these recipes will make about 4 to 6 aluminum pie pans worth.

Crust: Three good crust recipes appear to the right. All 3 makes good tasting crusts. Each type has it's ove advantages so use the one that suits your situation the best. Make sure you allow the dough to rest before pressing it into the pan. This relaxes the protein or gluten in the dough and makes it easier to roll out.
If you don't want to make your own dough from scratch, frozen bread dough may be used instead. Two loaves of frozen bread dough can be taken out to thaw in the morning. They will be ready to press into cookie sheets or baking pans by evening.
If you like a crispy crust for gnawing on after eating the rest of the pizza, try this trick. Use a pastry brush or small spoon to dribble a little oil around the outer edge of the crust right before baking the pizza. I fill a clean ketchup bottle with oil and dribble it though the squirty spout onto the edges of the pizza. This does something exotic and delicious to the crust that is difficult to explain, but tastes very good. I like it so much; I always prepare it this way.
Pizza Sauce: To the right you'll find 2 tomato based sauces and one cream based sauce. All 3 are delicious, easy and fast to prepare. If you prefer you can use a large can of spaghetti sauce instead of a hoemmade sauce. A 26-ounce can will cover 2 large pizzas.
Cheese: Mozzarella and Parmesan are traditional for pizza, but other cheeses

add variety. Cheddar, Monterey Jack, and Provolone are good alone or in combination with Mozzarella.
To make a plain cheese pizza spread the sauce on a prepared crust. Scatter about two cups of cheese on top of the sauce and then sprinkle with a few shakes of Parmesan. The final sprinkling with Parmesan cooks up very nicely, and makes for a tastier pizza. This is one of the secrets to an extra good finished product. For cheese pizza I usually use 1-1/2 cups of Mozzarella and 1/2-cup of Cheddar cheese. This is attractive to look at and tastes good too. I used to put a lot more cheese on pizza, closer to 3 or 4-cups per 16-inch pizza. One day I didn't have much cheese in the fridge so I was forced to use less by circumstances. The pizza turned out much nicer with less cheese. Since then I have made it my custom to use no more than 2-cups of cheese per pizza. For individual pie-plate-sized pizzas 1/2-cup of cheese is plenty. Probably not everyone is as much of a cheese glutton as I am, and has figured this one out already.
Vegetarian Toppings: Many types of vegetables are delicious on pizza. Green Peppers, Green & Black Olives,

Mushrooms, Onions, Sliced Tomatoes, Green Chilies and Hot Peppers are the most common. Fresh vegetables should be thinly sliced or finely chopped before arranging on top of the cheese. Some fresh vegetables like bell peppers, onions and mushrooms can be sautéed into the sauce if desired, this adds depth of flavor to both the veggies and the sauce.
Canned items should be very well drained, and even rinsed if you think it necessary. I buy canned mushroom stems & pieces in 4-ounce cans for fifty cents a piece at my local dollar store.

One can, well drained, is enough to generously cover a 16" pizza. Small cans of minced black olives are widely available and inexpensive. The kids hate them, but adults adore them. Fresh tomatoes, thinly sliced are scrumptious on pizza, especially if you drizzle them with a tiny bit of oil before baking. They lend a juicy and toothsome quality to the finished dish. Hot peppers are available from mild Green Chili Peppers to fiery Jalapenos and smokey Chipolte Peppers which should be used sparingly, even by hot pepper lovers.

I am very fond of canned pineapple chunks on my pizza, especially when paired with ham or bacon-type toppings. Not everyone can go for fruit on their pizzas though, so let your own family's taste buds be your guide. If you decide to use them, then drain them well and scatter about a cup of pineapple chunks over the cheese before baking. They are sweet and contrast nicely with hot peppers for a vegetarian delight.
Spinach Alfredo Pizza is easily made at home. Use your standard crust recipe and then prepare the Alfredo Sauce to the right. Top the sauce with at least 2 cups of finely chopped fresh spinach. If you must use frozen spinach then follow this procedure. First allow the spinach to thaw. Then squeeze the spinach to remove as much of the liquid as possible. Tear it into small bits with your fingers and then arrange it on the pizza. One cup of well drained spinach is plenty for a large pizza. Some people add additional mozzarella or Parmesan cheese to their pizza at this point but I do not. A light sprinkling of parmesan would be nice if you had plenty to spare.
Meat Toppings: Many types of meat products are good on pizza.

I have used most meats, to good advantage on pizza.
Ground Beef or Turkey is a favorite. Fry it loose in a skillet and drain off all the fat. Then spoon it over the cheese. Half a pound of ground beef is enough for one 16-inch pizza. A pound is enough for a large cookie sheet pizza.
Bulk Pork or Turkey Sausage may be prepared the same way. As with the beef, be certain to cook it all the way through. Pork Sausage is Fred's favorite topping on pizza, besides pepperoni, which I seldom buy because of the cost.


Prepared meats, like baloney, hotdogs, bacon and smoked sausage are good on pizza too.
Baloney is best cut into triangles and fried before putting on the pizza.
Hotdogs and Smoked Sausage should be sliced thinly and scattered about the surface of the cheese. Two to three hotdogs, or a third of a pound of smoked sausage will be enough for a 16-inch pizza, depending on how thinly you slice them.
Six or eight slices of Pork or Turkey Bacon are enough for one 16-inch pizza. Fry the bacon crisp and then crumble it onto the pizza.
Other items you might not have thought

of are tuna packed in oil (and well drained) and canned anchovies. I am very fond of anchovies, so this is a favorite of mind. Tuna is especially good with black olives. One 6-ounce can is enough for a 16-inch pizza.
Ham makes a great topping. Sliced Sandwich Ham is best cut into thin strips and sizzled in a little oil before scattering over the pizza. Baked or Canned Hams should be cut up finely and scattered over the cheese before baking. About 4 to 6-ounces of ham is enough for a large pizza.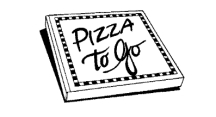 Bye Bye Delivery!


Self-Rising Crust - Make Ahead Crust - Bread Machine Pizza Crust - Almost Instant Pizza Sauce - Easy Seasoned Italian Sauce - Alfredo Sauce - Cooking Instructions - Final Cost
For the Crust:
2-1/2 cups flour


2 teaspoons baking powder

1 teaspoon salt

1 teaspoon dry yeast

3/4 cup water

1/4 cup oil
In a medium sized bowl combine the flour, baking powder, salt and yeast. Stir it up to distribute the salt and yeast evenly. Add the water and oil. You may need a spoonful or two more of water if the day is dry. Mix the dough with a wooden spoon until it forms a big ball in the middle of the bowl. It will be a little stiffer than biscuit dough. Knead the dough about 10 or 12 times and then form it into a ball. Place the ball in the center of 16-inch pizza pan, or a 9 by 13-inch rectangular pan. Use your hands and a rolling pin, to press the dough into the pan. I find a rolling pin most effective in this effort. The dough will be a medium thickness.
Top the crust with a sauce and toppings of your choice. Bake at 400° for about 15 to 20 minutes. Eat and enjoy. Makes 1 pizza.
First prepare the dough. In a big bowl combine the flour, sugar, yeast, and salt. Mix it up together with a fork or spoon. Add the oil and warm water. The water should be lukewarm, not hot. Stir with a big spoon to form a soft bowl. Knead the dough for 3 to 5 minutes. Now set the dough aside to rest for 20 minutes. This relaxes the gluten so it will be easier to roll out.
Now divide the dough into two balls. Each one will make a 16-inch round pizza or a 9 by 13-inch rectangular pan.
If you have a bevy of boy scouts, or a gaggle of girl scouts, give them each their own pie or cake pan, and let them make individual pizzas. This recipe will make 4 to 6 pie-plate sized pizzas. They will think you are the finest den mother in town.
Press the dough into the pans. Now they are ready to be pre-baked. After the pre-baking process they can be refrigerated or frozen until needed.
Preheat your oven to 400°. Bake the crusts for about 8 to 10 minutes, or until they puff up and appear slightly dry on the surface. Allow them to cool.
To freeze the crusts, wrap them in plastic wrap and then aluminum foil. Smaller crusts can go into zip-lock bags. If you plan to refrigerate them for 2 or 3 days then plastic wrap alone will be sufficient.
When you are ready to prepare your pizza remove the crusts and allow them to thaw if necessary. It won't take very long. Top with sauce and the toppings of your choice. Bake at 400º for about 10 to 15 minutes.
Measure the ingredients into the bread pan in the order listed. Make a well in the flour and sprinkle the yeast into it. Set the machine to it's Dough Cycle. After the dough has mixed a few minutes add a spoonful or two of water if the dough seems very dry. On my machine the Dough Cylce lasts 1-1/2 hours. The dough will be risen and puffy in the bread pan when it is done kneading and rising. Punch it down (with out hurting your fist on the paddle); and remove it from the pan. Knead it a few times to get it deflated properly. Divide the dough in half. Let the dough halves rest for about 10 to 15 minutes to relax the gluten, so it's easier to roll out. Press the dough into 2 - 14" or 16" pizza pans.
Top the dough with your favorite sauce and pizza toppings. Bake at 400º for about 15 to 20 minutes. Cut each pan into 12 slices of pizza. Serve hot.
In a large cereal bowl combine the tomato sauce, Italian Seasoning (or basil and oregano), garlic powder, sugar, onion powder and oil. Mix it well and spread it on the pizza crust. This makes enough for a single 16-inch crust. The recipe may be doubled or tripled as desired.
2 tablespoons oil


2 tablespoons dry onion

1/2 teaspoon garlic powder

12 oz can tomato paste

2 cans filled with water

1 teaspoon basil

1/4 teaspoon oregano (optional)

1 tablespoon sugar or honey

1 teaspoon salt
Heat the oil in a 2 quart size saucepan. Add the dried onion and garlic. Stir the onion and garlic around in the oil for about 20 seconds, or until it starts to smell good. Add the tomato paste. Now fill the empty can with fresh water and add it to the pot. Do it again, so two cans of water have been added. Stir it all up until the sauce is smooth and thick. Add the seasonings. Cover and simmer for about 5 or 10 minutes depending on your time and fuel situation. After the flavors have mingled long enough to know each other better, you are done. This makes enough for 4 pizzas.
1/2 cup heavy cream


1/4 cup butter

1/2 cup freshly shredded parmesan cheese

Generous amount of pepper
This is a very easy and sinfully delicious recipe. Measure the cream and butter into a small saucepan. Bring the mixture to a boil. Stir with a fork. Reduce the heat and simmer for about 5 minutes, or until the butter and cream are well mixed. Remove the sauce from the heat and stir in the parmesan cheese. Stir and stir until the cheese is melted. Add pepper to taste. Reheat briefly if necessary. Try not to boil it or the cheese will get all clumpy and stringy. Spread over a prepared crust. Makes enough for 1 thickly sauced pizza crust.
NOTE: You must use real cream, real butter and real parmesan for this recipe to work. If you use substitutes like evaporated milk, margarine and parmesan in a can the recipe won't turn out. Sorry.
---------
Cooking: It is difficult to give an exact time for how long your pizzas should bake. Many factors go into determining this. The size of the pan, the quantity and density of your toppings, the temperature of the toppings and many other variables contribute to the length of time it takes for the pizza to cook completely. As a general rule most homemade pizzas will take between 12 and 20 minutes to cook completely. A large thick 9 by 13-inch pizza with a pound of cooked meat on it, and 3/4-pound of cheese may take as long as 30 minutes, so use your good sense to help you determine when it is done.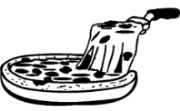 Plain cheese pizzas cook the fastest, usually in about 12 minutes or so. The clues I use most often is the color of the crust and the bubbly-ness of the cheese. When the cheese it completely melted, slightly brown in a couple of spots, and bubbling in a sort of volcanic mass, then the pizza is done.
I usually bake my pizza at about 400 or 425°. The high temperature makes the crust a little lighter, and the toppings are less likely to overcook. If the pizza seems done, take it out and stab it in the center with a fork. Peer down at the crust, the toppings and the cheese. If the center appears cooked all the way through, then you can eat it. If you aren't sure, or if it still seems a little raw in the center, then place it back in the oven and test it again in a few minutes. If the edges are burning, go ahead and take it out and eat it as is. The kids won't notice, and you'll know to keep the stove temperature a little lower next time.
Cost: Using these methods a Large Cheese Pizza winds up costing well under $2. It can be as cheap as $1.50 per pizza if all the ingredients are purchased on sale. Mushrooms, olives and other vegetables increase the cost about 40 to 50¢,

depending on their purchase price. The meat toppings suggested above add between 30¢ and 75¢ (per pizza) to the final cost, with hot dogs and baloney being at the low end, and sausage, ground beef and ham being at the high end. All said, exotic pizzas, with lots of fancy toppings can be made for about $3 a piece. Or to put it another way, for the price of one medium sized name-brand frozen cheese pizza from the store, you can prepare two large pizzas with THE WORKS at home!