Here's a recipe from my latest Kindle book "The Tomato Cookbook: Tomato Recipes From Soup To Grilled". It's a great little tomato pie that's perfect for a light lunch or an appetizer when you have guests over. What better way to show off your homegrown tomatoes?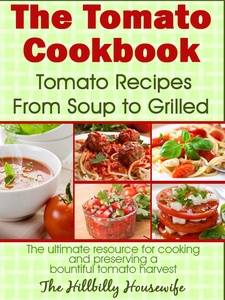 Author:
Hillbilly Housewife
Ingredients
1 pie crust (unbaked)
4 large tomatoes
1 tsp of salt
dash of pepper
⅓ cup mayonnaise
⅓ cup Parmesan cheese
1 minced garlic clove
Instructions
Preheat your oven to 450 F.
Bake your pie crust for 5 minutes. This will keep your pie from getting too soggy later.
While the crust is baking, slice your tomatoes.
Remove the pie crust from the oven and lower the temperature to 350F.
Layer your tomato slices in the pie shell and sprinkle the salt and pepper on top.
Mix your mayonnaise with the cheese and minced garlic and spread it over the tomatoes.
Return the pie to the oven and cook for 40 minutes or until your pie crust is golden brown and the tomatoes are fully cooked.
Here's another great tomato recipe. It's cold tomato basil soup. Perfect for a light summer lunch. And yes, if you are drowning in homegrown tomatoes, you could definitely serve the soup and pie together.