Ripe Banana Pancakes
Disclosure: Some of the links below are affilate links, meaning, at no additional cost to you, I will earn a commission if you click through and make a purchase.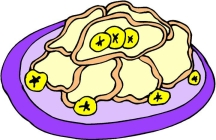 1 or 2 old, ripe bananas, mashed
1 medium egg
1 cup milk
1 cup flour
1 teaspoon baking powder
1/8 teaspoon salt
This recipe is a super way to use up aging bananas. Begin by mashing the banana in a large bowl. Whisk in the egg and milk. Beat the mixture until the banana is as smooth as you can reasonably get it. Measure in the flour, baking powder, and salt. Whisk again until the batter is smooth. Drop by 1/4-cupfuls onto an oiled skillet or griddle. Cook until brown underneath and dry on top with tiny bubbles. Flip to brown the second side. Repeat with remaining batter. Serve hot with Pancake Syrup or applesauce. Very good. Makes 4 servings.