My family loves the warm delights desserts, but they are pricey. I usually find them around the $3.00 price range for 2.
Instead, make your own at home. All it takes is 1 box of cake mix which you can get for as low as 75 cents.
The recipe is simple, 4 Tbsp cake mix (any kind) and 2 Tbsp water. Mix in a microwavable cup and microwave for 30 seconds. I can get 10-12 of these desserts from 1 box.
The Hillbilly Housewife Recommends:  Secret Restaurant Recipes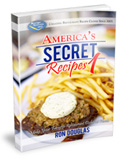 Don't spend a fortune going out to eat. Instead enjoy some of your favorite restaurant fare at home for a fraction of the cost.
These recipes are also perfect for dinner parties or a fun and special family dinner.
Get your copy today at: