3 pounds of chicken (leg quarters are fine)
1/3 to 1/2 cup of lemon juice
Salt & Pepper (liberal amounts of both)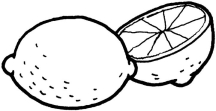 First prepare your chicken. If you are using chicken leg quarters, then it takes about 4 quarters to make 3 pounds. Cut each at the joint where the thigh meets the leg. Use a small sharp knife, and feel for the joint with your fingers. It takes a little practice to find the joint, it is the place where the thigh and leg wiggle together. Once you find it the first time though, it is very easy to find it again. Cut the thigh and leg apart and set them aside until all of them have been cut up. Your fingers will get cold and slimy while you do this step. That is all right. Each cold slimy finger represents real cash savings. Doing this yourself, instead of paying the butcher an extra $1 a pound to cut up the chicken for you is a great motivator, and hands are easy to wash.

I like to leave the skin on the chicken for this dish. The salty, lemon pepper flavor makes the skin unusually tasty. If you are watching fat and cholesterol though, you may remove the skin before cooking.

Arrange the chicken in a large shallow baking dish, like a cookie sheet. Sprinkle each piece liberally with salt and pepper. Dribble on the lemon juice. Bake the chicken at 375° for about 45 minutes, or until the chicken juices run clear when you poke the biggest piece with a fork. If the juices are still pink or red colored then put the chicken back into the oven and cook it some more. For extra flavor you can baste the chicken with the lemon flavored pan juices every 15 minutes or so. I often forget to do this part because of the rowdy hungry children dancing about my kitchen so close to supper time. The chicken still turns out really good.

This dish is very easy to prepare and tastes good enough for company. Serve with Broccoli in Cheese Sauce and Chicken flavored Rice a Roni. Offer sliced oranges, or bananas and yogurt with Chocolate Syrup for dessert.