This post was shared with us from Living So Abundantly. I thought I would post it in the Articles section as well as the Frugal Tips section and the Recipe section so it would be easy to find.
Having been blessed with buckets and buckets of tomatoes this year, I embarked on a mission myself to find ways to use up tomatoes in assorted ways. What resulted was a little cookbook available on Kindle. You can click on and take a look right here: The Tomato Cookbook – Tomato Recipes From Soup To Grilled
On with the instructions for peeling tomatoes from LivingSoAbundantly.com.
Thank you,
Susanne
First, remove the top of the tomato with a paring knife.

Slice an "x" on the bottom of the tomato.

Immerse the tomato into boiling water with a slotted spoon for 3-5 seconds; remove.

Using the slotted spoon, immediately immerse the tomato into an ice bath; remove in 3-5 seconds.

Easily peel off the skin, and this is what you get. So easy!

Why would I want peeled tomatoes? Salsa, of course! You can also make homemade spaghetti sauce, too.
There are so many uses for peeled tomatoes.
What's your favorite use?
Please share your thoughts in the comments section below.
For pictures of the process, be sure to click on the link for the Living So Abundantly website.
I'm excited to announce the first in a series of HBHW Cookbooks that I am writing exclusively for Amazon Kindle.   Did I say excited?  I mean thrilled!
The reason I'm so passionate about Amazon Kindle is because it allows me to publish my recipe books at a price that's affordable for everyone.  If you're not familiar with Kindle, don't worry.  Scroll down and you'll find information about how to download the Kindle ebook to other devices, even your computer or laptop.  It's really quite simple once you know all your frugal e-reader options. Won't you take a moment and check out what my new Kindle book has to offer?
Homemade Jelly and Jam Recipes
This  is a collection of 35 tried and true family recipes for jellies, jams, fruit butters, and marmalades from the Hillbilly Housewife.
Made from fresh fruit and ingredients that YOU control, these recipes not only taste better than store bought, they also allow you the chance to create some hand-me-down recipes of your own.
Don't worry if you've never made homemade jellies and jam before.  You'll find a section in the book that covers the basics of jelly and jam making, along with helpful tips and a FAQ section that will cover just about every question you have.  This little ebook is designed to make the whole process simple and easy.
Want to get started right away but don't have all the equipment you need to can jelly and jam? No problem! The freezer jam recipes are easy to make and you don't need any special equipment.
Take a peek at just a few of the recipes you'll find inside: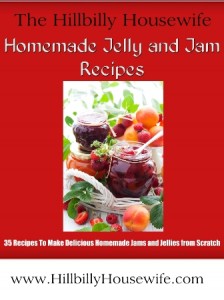 Strawberry Freezer Jam
    Grape Jelly
    Apple Jelly Made From Peels and Cores
    Red Currant Jelly
    Hot Pepper Jelly
    Peach Butter
    Apple Butter
    Orange Lemon Marmalade
    Fig Jam
    Strawberry Rhubarb Jam
    Apricot Jam
Click on and enjoy this fun and frugal Kindle ebook today!
As mentioned earlier, there are some who are puzzled about getting a book on Kindle. This is the question I've received repeatedly:
"I would love to read this, but I don't have a Kindle.  What do I do?"

Here's the good news. You don't need an Amazon Kindle. You can read the book on a variety of devices that have Kindle Apps. For example, there may be an app for your phone, iPod or iPad. You can get a full list of free Kindle apps here.
If you don't have one of those devices, you can still easily download my Kindle ebook right on your own computer or laptop.  You'll see right below the 'Buy' button the words "Available on your PC."  Click on and it walks you right through.  It's easy to read Kindle ebooks right on your computer via the "Cloud Reader". I've been using that one myself and it works like a charm.
With the list of affordable Kindle books growing by leaps and bounds, you can see why I was so excited to jump aboard.  I'm hoping to add quite a few of my own titles to that list over the coming weeks and months.
Won't you please take a look at Homemade Jelly and Jam Recipes?  I know once you see what this little Kindle ebook has to offer, you'll want to dig right in and start preserving your own jelly and jam!  Click on and order your copy  today!
This is a recipe from my ebook Canning Made Simple. I thought I'd share it with you here so you can get started learning how to can with a simple recipe that's perfect for this time of year. Enjoy!
1 quart cranberries
1 cup water
2 cups sugar
This is a hot pack recipe made in a boiling water canner.
Wash jars and lids, scald with boiling water and keep hot.
Wash and sort cranberries and put in saucepan, add water, and put over medium heat and cook, boiling gently, until cranberries are soft.
Put cooked cranberries in a fine mesh sieve and press through into a bowl to remove skins.
Add sugar to strained cranberries, stir, and pour into saucepan and put over medium heat and boil gently for 3 minutes (just long enough to melt sugar.)
Immediately pour hot cranberry sauce into hot jars, leaving 1/2 inch headspace. Remove any air bubbles by inserting thin knife blade around the edges, then adjust headspace if needed.
Wipe rims of jars apply the lids and rings, just hand tight.
Process in a boiling water canner for 15 minutes (adjusting for altitude if necessary.)
Remove and allow to cool undisturbed for 12 to 24 hours; check lids to make sure they're sealed, tighten rings fully, and store in dark draft free place.
If any jars didn't seal, put in refrigerator and use within 7 to 10 days.
Yields 2 pint jars
For more canning tips and lots of canning recipes, I recommend you grab a copy of my ebook

Canning Made Simple

.

Inside you'll find over 40 canning recipes to get you started, along with simple to understand explanations about what to can, how to can, and even why to consider canning at all!