Feeling better and being healthier has a lot to do with what you eat. But eating healthy isn't always easy or cheap. My favorite way to get this done is to use "tough" meat and veggies that are in season (or on sale) and trow it all in the crockpot. There's a reason certain cuts of beef are still inexpensive and that you can buy a whole chicken for a lot lest than a decent chicken breast… it takes a little time and effort to cook which is why the crockpot is perfect.
For example, here's an easy to make slow-cooked paleo beef stew recipe you may want to try.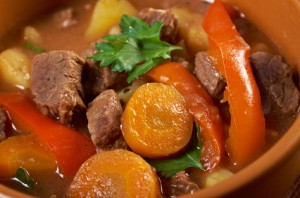 Take it as a starting point or throw your favorite stew recipe into a slowcooker and let it cook while you go about your day. Another option is to take a whole chicken and cook it in a little broth and some veggies and serve over rice.
Ready to learn more about crockpot cooking? Get my Crockpot Cooking Made Simple ebook today and find out how you can work your crockpot into your meal plan, how to choose a good crockpot, and even how to convert your favorite recipes to work in a slow cooker.

Click on and order your copy of Crockpot Cooking Made Simple today!




http://www.hillbillyhousewife.com/ebooks/crockpotcooking.htm