Saturday, February 21st, 2009
We had a pretty slow and relaxing Saturday for a change. I spent part of the day knitting my first pair of socks (I'll post pictures when they are finished) and the rest of the day on a little experiment…
I've had lasagna on my mind all week, and this was as good a day as any to make it. I dug through my pantry and saw that I had plenty of everything, enough to make a few extra lasagnas for the freezer. And since I've been working on my Freezer Cooking Made Simple ebook, I thought this was a great opportunity to see exactly how much time making freezer meals saves. The results were four 3-Minute meals.
Let me explain…
I made the first lasagna and timed myself. Then I went back to make four more lasagnas (to be frozen for later). Including clean-up each time, and assembling all these lasagnas it took me just under 10 minutes longer to make four than it did to make the single lasagna. They are now sitting in my freezer, waiting to be pushed in the oven and cooked on a night when I'm too tired to cook a whole meal. That means it took me an average of 3 minutes to make these extra meals.
Granted, it may take another minute to move each lasagna from the freezer, sprinkle it with cheese and then remove it from the oven when it's done, but you get my point. By cooking double, triple or in my case quadruple quantities of foods that will freeze and reheat well, you can save a lot of time. Time that you can spend with your family instead.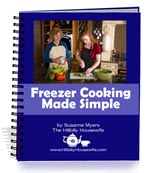 You can get your copy of my freezer cooking ebook here.
Here's my freezer lasagna recipe:
Home Made Lasagna
10 uncooked lasagna noodles
1 lb. ground beef
1 C onions, chopped
2 garlic cloves, minced
3 t parsley flakes
1 t salt
1 t dried basil
1 t dried oregano
3 (8 oz.) cans tomato sauce
1 C ricotta cheese
2 egg whites
1 C mozzarella cheese, shredded
2 tbsp Parmesan cheese, grated
Directions:
Cook the lasagna noodles as direction on the package.
Drain well then set aside and keep warm.
Heat the oven temperature to 350 degrees.
Place the beef, onions and garlic in a skillet placed over medium heat.
Cook 10 minutes or until the beef is no longer pink.
Drain and pat off excess grease with paper towel.
Return the meat mixture to the skillet and sprinkle in the parsley, salt, basil and oregano.
Pour the tomato sauce into the pan and stir to combine all the ingredients together well.
Reduce the heat to low and cook 10 minutes, stirring often.
In a small bowl mix together the ricotta cheese and egg whites until well combined.
Spread 1/4 C beef mixture into the bottom of a 9X13 ungreased baking dish.
Layer 1/2 the cooked noodles over the beef.
Layer more of the beef mixture over the noodles and top the beef mixture with part of the cheese mixture.
Continue with the layers until all the ingredients have been used.
Sprinkle the top with the mozzarella and Parmesan cheeses.
Bake 40 minutes or until bubbly and the cheese has completely melted.
Let stand 10 minutes before serving.
Makes 8 servings
When freezing omit the two cheeses and do not bake. When ready to use do not thaw. Cover and bake in a preheated 350 degree oven for 1 hour 35 minutes. Uncover, sprinkle with the cheeses and continue baking 30 minutes or until bubbly.