Frugal Breakfast Ideas, Banana Pancakes and The Fear Of Rising Prices – HBHW Newsletter
July 22nd 2008
Editorial
Things are slowly returning to normal around here after a month of vising family and then having my sister vising with us. Our daughter is still adjusting to not being the constant center of attention, but I'm enjoying some quiet time and finally being able to work on this site again.
We also seem to go through yet another heatwave around here and I'm reluctant to even turn the stove top on. To help keep the house cool, we've been grilling almost every night and have been enjoying cold sandwiches and soups for lunch. Yes, I said cold soup. My favorite is my own take on "gazpacho", a cold spanish vegetable soup.  I just peel, seed and chop some tomato and toss it in the blender along with some peeled onion and garlic, some peeled and seeded cucumber and some seeded green pepper. I blend it along with a splash of oil and vinegar and salt and pepper to taste until it is pretty much liquefied. It tastes best if you eat it ice cold, straight from the fridge.
That's it for this week.  As always, I welcome your comments and suggestions. Feel free to email me at susanne@hillbillyhousewife.com
Warm Regards,
Susanne – The Hillbilly Housewife
Sponsor
This edition of the Hillbilly Housewife is sponsored by LivingOnADime.com. The ebooks are well worth the small fee they charge for all the money saving tips and ideas that you will get out of them. I usually make up the money I pay on the ebook within less than a week (often in one shopping trip) from purchase.
Grab yours at www.hillbillyhousewife.com/livingonadime.htm
Inspirational Quote
"The three great essentials to achieving anything worthwhile are; first, hard work, second, stick-to-it-iveness, and third, common sense."
- Thomas Edison
Reader Questions
I don't have any reader questions to share with you, but I do get quite a few emails each week from people scared about the rising cost of food and fuel. That's what prompted me to share an article that my good friend Jill from Living On A Dime wrote a few weeks ago. Take a moment to read through it here: Are Rising Prices Scaring You? She addresses some very important points and will show you why being fearful about these things might be the wrong approach.
Featured Article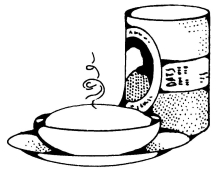 This week's featured article is about that all important first meal of the day – Breakfast. If you follow the HBHW blog, you probably remember my post about my favorite frugal breakfast – Homemade Instant Oatmeal. That's still the breakfast standard around here, but every once in a while (usually on the weekends), I'm ready to change things up a bit. Eggs, Grits and Toast are always welcome around here when I have a bit more time.
If you are used to grabbing something at a fast food place on your way to work, or simply are just running short on time and cash, give a few of these frugal breakfast ideas a try.
Frugal Tips – Even more about Vinegar and Baking Soda
Just when I thought we had completely exhausted the uses of Vinegar and Baking Soda in this newsletter, I got the following email in my inbox. Thanks for all those great tips.
I love that you have featured vinegar tips in your newsletter. I'm a die hard vinegar and baking soda lover (it's better for you than cleaning with all those harsh chems too).
Here are my favorite tips (I also included one with cornstarch):
Stinky basement? Stick an uncovered container of white vinegar in the stinky basement. It's amazing how the vinegar neutralizes the odor.
Stinky toilet? Pour vinegar in and let set. Best when put in the toilet overnight.
Need to scour sink? Baking soda works great. Even removes odors.
Want a fresh smell to a room? Sprinkle baking soda on carpet and let set for 15 minutes. Then vacuum.
I always get a "ring around the tub" in the bathroom due to my kids baths seem to always be at about the same depth. While cleaning out the drain in the tub, I used some excess baking soda around the ring (this was shortly after the kids took a bath). I just used my hands and scrubbed just a little bit with the baking soda (the tub was still damp). Came right off easily.
Using both vinegar and baking soda in the laundry while washing my kids cloth diapers when they were at that age worked awesome too (kept the diapers from build up).
I buy my household baking soda (not to cook with) from a local grain elevator. The last time I purchased it, I received 25 lbs for around $4. It's lasted me years.
My husband is a homebuilder and will often come home with very muddy work boots during muddy times of the year. He, not thinking, will take a few steps onto our white carpet and realize what he's done. I've found that while the mud is wet, sprinkling cornstarch on it and letting it dry works great. Once dry, vacuum. No need to scrub the carpet or use any cleaners. Works awesome!
That's it for now!
Meredith B.
Indiana
Frugal Tips From Our Readers
Just wanted to let people know that if you are enthusiastic about baking bread, forget the silly little envelopes of yeast. If you can't get it at a bulk store like Costco, go on line (probably eBay) and get a 8 oz (or so) package of dry yeast. It will cost around $10 including shipping. If you put part in the freezer and keep the rest in the refrigerator in a tupp or something, it will last forever. Best of all, it is WAY better yeast… just use it at a heaping tsp for an envelope of the pricey and sometimes unreliable stuff off the shelf… – Susan
Featured Recipe
Since we're on the topic of breakfast this week, I thought I'd share another great HBHW breakfast recipe with you. These Whole Wheat Banana Pancakes are perfect for for weekends. Serve them with a little homemade Apple Juice Syrup, or top them with some hot or fresh fruit.
Of course you could also make up a big batch of these pancakes one morning and reheat them all week long. Just let them cool completely and store in the fridge (or the freezer if you won't be able to use them over the next few days). To reheat you can pan fry them in a dry skillet, stick them in the microwave, or even reheat in the oven or a small toaster oven.
Reader Recipes
Here's a quick and easy breakfast muffin recipe from fellow HBHW reader Fawn.
Pumpkin Spice Muffins
1box spice cake mix
1/4 C water
1 15oz can of pumpkin
Follow cupcake baking directions
very easy cheap and good.
I??"m Looking For ?
This section is going to be all about you. If you are looking for a particular recipe or a tip on how to do something, email it to me and I will post it in an upcoming newsletter. I??"ll give you my input and will also post any suggestions other readers of the newsletter come up with. So take a moment to write me your questions and of course if you have a tip or idea for any question posted in this section feel free to send me that as well.
Fellow HBHW reader Deanne sent me this request:
I'm looking for a copycat recipe for "Suddenly Pasta Salad: Ranch and Bacon". My family really likes this, but those tiny boxes don't even come close to feeding my family of 9. I know I can buy my own shell-shaped pasta add peas and carrots and bacon bits, but what about the sauce? Anyone found one that tastes just as good?
Does anyone have a recipe for this?
And here's another request…
I am looking for a recipe. I lived in Louisville and ate a casserole with tomatoes and bread in it, but have no idea what to look for in searching the Internet. All I know is that it is a southern recipe which shows up often at pot luck suppers. Can you find a recipe for me?
Barbara
In the last issue Susan asked:
Do you know the "knock-off" ingredients for Jiffy corn muffin mix? I make a pone of cornbread like I learned from "MamMaw" YEARS ago. I have run across some recipes that I would like to use, but since I do not measure when making my cornbread I feel like I walked into brick wall. The muffin mix is the only packaged ingredient in this recipe and am trying to figure out way around the wall.
Susan G.
Fellow HBHW reader D.B. had this reply
I use this recipe as a duplicate of Jiffy mix.
Cornbread Mix
Combine: 4 cups all purpose flour
4 cups cornmeal
2 cups instant milk powder
2/3 cup sugar
4 Tbsp baking powder
1 Tbsp salt
1 Tbsp baking soda
Makes about 10 cups mix.
To make cornbread:
Beat together: 2 eggs
1 cup water
4 Tbsp butter, melted
Add: 2 1/2 cups Cornbread Mix
Stir only until moistened. Batter will be lumpy. Pour into greased cake pan. Bake at 425 for 20-25 minutes.
Inspirational Story
NAILS IN THE FENCE
Author Unknown
There once was a little boy who had a bad temper. His Father gave him a bag of nails and told him that every time he lost his temper, he must hammer a nail into the back of the fence.
The first day the boy had driven 37 nails into the fence. Over the next few weeks, as he learned to control his anger, the number of nails hammered daily gradually dwindled down. He discovered it was easier to hold his temper than to drive those nails into the fence. Finally the day came when the boy didn't lose his temper at all.
He told his father about it and the father suggested that the boy now pull out one nail for each day that he was able to hold his temper.
The days passed and the young boy was finally able to tell his father that all the nails were gone.
The father took his son by the hand and led him to the fence. He said, 'You have done well, my son, but look at the holes in the fence. The fence will never be the same. When you say things in anger, they leave a scar just like this one. You can put a knife in a man and draw it out. But It won't matter how many times you say I'm sorry, the wound will still be there. A verbal wound is as bad as a physical one. Remember that friends are very rare jewels, indeed. They make you smile and encourage you to succeed. They lend an ear, they share words of praise and they always want to open their hearts to us.'

What??"s your inspirational story – Send me an email so I can share it with our readers. You never know whom you may inspire.
Final Thought
That??"s it for this edition of the Hillbilly Housewife Newsletter. I hope you??"ve had as much fun reading it as I had creating it for you. I also hope that you have found the information helpful and useful.
Do you have a question, a tip, a recipe or a story you??"d like to share with us? Email it to me and I??"ll include it in a future issue. Can??"t wait to see what you have to say.
Warm Wishes,
Susanne – The Hillbilly Housewife
Sponsor