Angel Food Menus, Frugal Kitchen Staples and Bean Recipes – HBHW Newsletter
June 25th 2008
Editorial
Hi there… I'm writing today from my parents house. My daughter and I are here for a two week visit and I must say I'm getting hardly any chance to work on the site. My sister is here as well and since we usually only get to see each other about once a year, we've been enjoying our time together. My little girl is of course getting spoiled rotten by grandma, grandpa and her aunt, but such is life. Coming back home next week will definitely be an adjustment though, but we are both looking forward to seeing "Daddy" again since he couldn't make the trip this year.
I hope you are able to take off some time as well and enjoy the summer sun and loved ones.
As always, I welcome your comments and suggestions. Feel free to email me at susanne@hillbillyhousewife.com
Warm Regards,
Susanne – The Hillbilly Housewife
Sponsor
This edition of the Hillbilly Housewife is sponsored by LivingOnADime.com. The ebooks are well worth the small fee they charge for all the money saving tips and ideas that you will get out of them. I usually make up the money I pay on the ebook within less than a week (often in one shopping trip) from purchase.
Grab yours at www.hillbillyhousewife.com/livingonadime.htm
Inspirational Quote
"Start by doing what's necessary; then do what's possible; and suddenly you are doing the impossible."
- St. Francis of Assisi

Reader Questions
This week, I'd like to address a few questions I've been getting about the Angel Food Menus found on the HBHW site.
1) Where Is This Month's Menu?
I tried to make it clear on the Angel Food menu page, but I guess it is still a bit confusing. Basically you will use the menu one month later than suggested by the name. Angel Food Ministries will deliver the boxes at the end of each month. To make it easy to match up what box goes with what menu, I've kept the name the same. Let's look at an example. This is early June, so let's use it as our example. You put in your order through Angel Food Ministries and they will let you know when and where your boxes will be delivered. For June, most of the boxes will be delivered around June 28th. So even though it is called the June menu, you will use it mainly in July and for that reason, the menu will not appear on the HBHW website until about the 20th – 25th of June (depending and when either myself or my wonderful assistant Tishia have a few hours to add them).
2) How Do I Order? Where Will The Boxes Be Delivered?
This will vary greatly depending on where you are located. Your best option is to go to the Angel Food Ministries Website. You can search for churches and organizations in your area that participate in this program.
3) Is This Only For Low Income Families?
No, anyone can order the angel food boxes. There is no income limit, and as a matter of fact, they don't even ask you how much you make or if you really need them. With grocery prices constantly on the rise, quite a few of us are in a position where we need a little help putting food in our kids tummies and making every single grocery dollar count.
4) Is It Really Worth the $40?
It depends… mainly on what your family eats. My family eats pretty much anything that's in the boxes and those are items we would usually get at the grocery store (and pay a good bit more). My neighbor on the other hand has a whole family of picky eaters and would have to give away at least half of what's in the box because they wouldn't eat it. So for her it doesn't make financial sense to get the boxes. Take a look at the menus in the angel food section. You will find a list of everything that's included in that particular month's box. Browse through a few older months to get a feel for the foods that will be included. That should give you a feel for whether or not this will be a good fit for your family. If you think it might be and this month's list of foods looks good to you, go ahead and give it a try.
5) How Many Boxes Should I get?
That's a really hard one for me to answer. It depends on so many factors. The size of your family, how many meals you eat at home, how much each family member eats, where else you shop or what other food items you get out of your garden, a food co-op etc. My best suggestion is to start with one box and see how things go. You can always order two boxes next month, or add one of the additional boxes offered.
Featured Article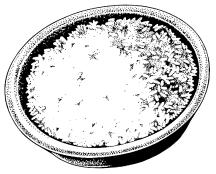 This week's featured article is about frugal kitchen staples. You may have quite a few of these sitting in your pantry already, but you just might find another idea or two in this article. Or maybe it will just remind you to use one of those staples a little more frequently to cut down on food costs. Either way it's a great read. Enjoy!
With any of these articles, I would love to add your ideas to them as well. Do you have some unusual kitchen or pantry staples, or do you have some fresh ideas on how to use the traditional ones? Email me with "Frugal Kitchen Staples" in the subject line and I will add some of the best ideas to this article. Please include your first name and the first letter of your last name. If you'd like to share where you are from (either state or city and state), I'd love to include that info as well.
Frugal Tips
I shared a frugal vinegar laundry tip on the HBHW blog a few weeks ago and have since come across some other ideas including some great frugal ways to use vinegar in the garden. Use undiluted vinegar as a natural and very effective weed killer. If you have pavers or tiles in the garden and don't want grass or weeds to grow through the cracks, spray them with white vinegar. Add a splash of vinegar to a vase of freshly cut flowers to keep them fresh longer.
Frugal Tips From Our Readers
Keep those frugal tips coming.
I found that you can make your own Warm Delights very easily. Put 4 level tablespoons of any variety cake mix in a small bowl (I used a cereal bowl). Stir in 2 tablespoons water – you may have to add a little more if it is too dry – until well mixed; some tiny lumps are okay. You can sprinkle ice cream topping like hot fudge or carmel over the top. Cook for 1 minute in a microwave. Take out and let sit for a couple of minutes and it's ready to eat. I used a chocolate cake mix from Aldi's and some Smuckers hot fudge ice cream topping. It was a good as the real thing and by far cheaper! You can probably make dozens of them from one cake mix.
Alice
Fellow HBHW reader Jacqueline had a similar idea and another great frugal tips to share:
Betty Crocker 'Warm Delights' at $1.39 each. You can get about 7 batches
from just 1-$1 cake mix.
My substitute:
use any flavor of cake mix you like.
have a supply of 'flavors', syrups, jams or ice-cream sundae sauces (choc.,
strawberry, pineapple, my favorit)marshmallow syrup, dry coconut, etc.
a can or two of canned frostings if you like (optional)
Recipe: at a ratio of 1 serving of Dry cake mix to 1/2 serving of water and
mixing, add the special sauce or ingredient of your choice, swirl it
through cake mix several times. Top with the final topping (Chocolate
syrup, etc.), bake in microwave oven for just seconds. Enjoy!
Here are samples I love to make and eat!
1:
1/2 cup Dry chocolate cake mix, 1/4 cup water, Mix until smooth. Drop a
heaping tablespoon of canned chocolate fudge icing and swirl through cake
mix. Top with marshmallow syrup (a jar of marshmallow cream that I dilute
with several spoons of water and stir till it will pour).
Bake in microwave for approximately 55-65 seconds.
2:
2/3 cup yellow cake mix, 1/3 water. Mix until smooth. Drop in sweetened
coconut, swirl. Top with marshmallow syrup. Bake in microwave for anywhere
from 60 to 75 seconds. Eat and enjoy!
The only thing tricky about this recipe is to remember that whatever
measurement of cake mix you use, be sure to use 1/2 that same measure of
water. Be sure your cooking dish will hold the amount of cake (it rises and
can run over) and watch the baking time. Different amounts and different
sauces can cause it to need a few seconds more of baking time.
Stick a fork into the cake part to see if it looks like baked cake, if not,
add a few seconds cooking time. NEVER measure the cooking time in MINUTES!
Get inventive and try different combinations. Really good and Cheap!
Free tip: I'm 70 years old and a retired professional. Where was this tip
when I was rushing out the door, getting 3 kids off to school and trying to
beat the train across the tracks to make it to my office on time each
morning?? My friend told me a few weeks back that if I would:
'JUST TAKE AN OLD WIRE HANGER (FROM THE CLEANERS) AND STROKE IT DOWN MY
SKIRT OR PANTS,
IT WOULD REMOVE THE STATIC ELECTRICITY!
I wonder how many cans of static Guard stuff I bought in the past?
I have not personally used this wire hanger trick so you might want to test
it before putting it out on your website. I no longer need it so haven't
tried it, yet.
Jacqueline
Featured Recipe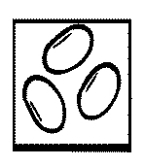 When it is this hot, we end up cooking a lot on the grill and I just add a salad or two as side dishes and dinner is ready. One of the salads I end up making almost every week is this bean salad or a variation of it. Feel free to use the types of beans you have on hand or you know your family likes. You can also easily use more cans of beans and just make a little more dressing.
Reader Recipes
This week's reader recipe is from HBHW reader Hallie. She shares her family's favorite dip, a white bean dip. It goes great on slices of homebaked bread, tortilla or pita chips and the likes. Try it the next time your kids are asking for a snack or when you have some friends over.
I??"m Looking For ?
This section is going to be all about you. If you are looking for a particular recipe or a tip on how to do something, email it to me and I will post it in an upcoming newsletter. I??"ll give you my input and will also post any suggestions other readers of the newsletter come up with. So take a moment to write me your questions and of course if you have a tip or idea for any question posted in this section feel free to send me that as well.
Does anyone have a recipe for this?
Do you know the "knock-off" ingredients for Jiffy corn muffin mix? I make a pone of cornbread like I learned from "MamMaw" YEARS ago. I have run across some recipes that I would like to use, but since I do not measure when making my cornbread I feel like I walked into brick wall. The muffin mix is the only packaged ingredient in this recipe and am trying to figure out way around the wall.
Susan G.
In the last issue Donna asked:
My mother used to make a sandwich filling with ground ham or bologna, hard boiled eggs and shredded carrots. I know there was more to the recipe but can't find it anywhere. Thought maybe you'd know as it was a great way to stretch your meal. Would you know of the recipe? Donna
Here's a recipe from a fellow HBHW reader:
I skimmed your newsletter – and the one request reminded me of my mother in law's wonderful ham salad – the carrots were probably someone's addition to a recipe similar to this…
Mom's Ham Salad
2/3 part Ground Ham (Superior)
1/3 part ground bologna (trail)
Cheddar Cheese
Mayonaise
Boiled Eggs
Little bit of pickle relish (optional)
Don't you love it!? :0) My version used the following amounts:
4 lb ground up ham
1 lb ground up bologna (Trail)
1 8 oz Cheddar Cheese – shredded
1 quart Mayonaise
7 Boiled Eggs
Touch of Relish
Mix up and serve.And we finally got a reply about the German black bread. Here's the original question…
Years ago I used to buy German black bread from an Albertson's in store bakery in Caldwell, Idaho. It was the best tasting bread I have ever eaten. It was in baguette size loaf and was actually blue in color.
I have tried numerous recipes gotten from the internet and nothing even comes close. Most Rye or black bread recipes call for more white flour than rye and completely lack that sour nutty yeasty taste that goes so well with sharp Cheddar cheese and ice cold milk. I know they specify the white flour to get the bread to rise properly but it ruins the taste for me. I don't mind adding gluten to make the rye flour rise, I just need a recipe that will bring out that unique flavor.
Even though I lived in Milwaukee for many years, a city with a large ethnic German population, I was never able to find any German black bread. Go figure, it tastes so good that they don't eat it.

I surely hope you can help me. Thanks Gary
Fellow HBHW reader B.J. sent in the following recipe:
I have an idea this may be the black bread you are looking for Gary- no white flour at all + it has a sourdough starter component that gives it the tang you desire. Also many recipes add either unsweetened chocolate or instant coffee for the dark,rich color & the slight bitter flavor.
German Black Forest Rye Bread- Schwarzwalder Roggen Brot
2 cups whole wheat flour
3 cups coarse rye flour (rye meal)
1 tbsp. caraway seeds
1 tbsp. salt
1/2 cup lard
1 cup milk
1 cup sourdough starter
1 tsp. sugar
1/2 cup lukewarm water
1 env. yeast
Directions:
Preheat the oven to 400 F. degrees.
Proof the yeast in the lukewarm water with the sugar. Add the sourdough starter to the yeast sponge. Melt the lard, pour the milk over it and let stand until lukewarm. Then add to the yeast mixture.
Measure in the salt, caraway seeds and the coarse rye flour. Then add the whole wheat flour.
Place the dough on a lightly floured work surface and knead until smooth and elastic; then place in a large buttered bowl, cover with a towel and let stand in a warm place to rise for about 1 1/2 hours or until doubled in bulk.
Take the dough out onto your work surface and punch it down a couple of times; divide into 2 equal pieces, and knead these for a couple of minutes. Then place into 2 small (8 inches by 4 inches) buttered loaf pans, cover with a towel and let rise until doubled in size, about 30 to 45 minutes.
Bake in the oven until the tops are brown and the loaves sound hollow when tapped with your finger, about 35 to 40 minutes. Cool on a rack. Yield 2 small loaves. Can be frozen.
SOURDOUGH STARTER: or any one that is your favourite.
2 cups warm water
3 cups flour
2 tsp. salt
2 tsp. sugar
1 envelope yeast
1 1/2 cups grated, raw potatoes
Mix the warm water with the flour, salt, sugar, yeast and grated potatoes and blend well. Pour into a fairly large container made of glass or, better still, an earthenware bowl. Do not use plastic or metal.
Put the bowl in a warm place for 24 hours, uncovered. Then stir down well, cover with a sheet of plastic and let stand in a warm place for 3 to 4 more days. Stir a couple of times each day.
The starter should now look a bit foamy and start to smell. Pour it into a glass jar with a lid and store in the refrigerator.
You can begin to use the starter when a layer of clear liquid appears on top.
The night before you want to bake, take the starter out of the refrigerator, pour it into a bowl (not plastic or metal) and stir in 1 1/2 cups flour and 1 1/2 cups cold water. Stir until well blended and smooth, cover with a piece of plastic and set in a warm place overnight.
The next morning stir the starter again and pour off 2 cups into your glass jar. Put this back into the refrigerator for next time. The remaining 2 cups of starter are what you will use for your immediate baking.
Inspirational Story
Fifteen Things God Won??"t Ask
Author Unknown
Printer Friendly Version
Comment on Article
Feedback to Author
God won??"t ask what kind of car you drove, but will ask how many people you drove who didn??"t have transportation.
God won??"t ask the square footage of your house, but will ask how many people you welcomed into your home.
God won??"t ask about the fancy clothes you had in your closet, but will ask how many of those clothes helped the needy.
God won??"t ask about your social status, but will ask what kind of class you displayed.
God won??"t ask how many material possessions you had, but will ask if they dictated your life.
God won??"t ask what your highest salary was, but will ask if you compromised your character to obtain that salary.
God won??"t ask how much overtime you worked, but will ask if you worked overtime for your family and loved ones.
God won??"t ask how many promotions you received, but will ask how you promoted others.
God won??"t ask what your job title was, but will ask if you reformed your job to the best of your ability.
God won??"t ask what you did to help yourself, but will ask what you did to help others.
God won??"t ask how many friends you had, but will ask how many people to whom you were a true friend.
God won??"t ask what you did to protect your rights, but will ask what you did to protect the rights of others.
God won??"t ask in what neighborhood you lived, but will ask how you treated your neighbors.
God won??"t ask about the color of your skin, but will ask about the content of your character.
God won??"t ask how many times your deeds matched your words, but will ask how many times they didn??"t.What??"s your inspirational story – Send me an email so I can share it with our readers. You never know whom you may inspire.
Final Thought
That??"s it for this edition of the Hillbilly Housewife Newsletter. I hope you??"ve had as much fun reading it as I had creating it for you. I also hope that you have found the information helpful and useful.
Do you have a question, a tip, a recipe or a story you??"d like to share with us? Email it to me and I??"ll include it in a future issue. Can??"t wait to see what you have to say.
Warm Wishes,
Susanne – The Hillbilly Housewife
Sponsor