Spanish Potato Tortilla, Leftover Dinner Ideas and Memorial Day Fun- HBHW Newsletter
May 23nd 2008
Editorial
It's been another couple of busy weeks around here and summer hasn't even started yet. I love the fact that it is plenty warm to go out and play and we've been spending a lot of time at the park lately (as well as in the backyard of course).
Do you have big plans for Memorial Day weekend? We're invited to a cookout tonight, but don't really have anything planned for Monday (or the rest of the weekend for that matter). If you're looking for some fun recipes or just some coloring pages for the kids, print this free copy of a Memorial Day Fun report our friends over at Menu Planning Central put together.
http://www.hillbillyhousewife.com/memorialday.pdf
Thank you for all the great feedback on the Kitchen Organization Ebook I emailed you about yesterday. I'm glad so many found it helpful.
If you have a child graduating this year and are looking for some inexpensive ideas for a graduation party, take a look at my latest blog post here http://www.hillbillyhousewife.com/blog/?p=68
And last but not least, my friend Christine from DineWithoutWhine.com – a family friendly meal planner asked me to share that she is running a sale through Tuesday. She is only doing this twice a year, so it's definitely worth looking at if you've been looking for some help planning your meals.
Here are the details: Go to www.dinewithoutwhine.com/sale and click the yellow "join now" tab at the top. Choose the lifetime, 3, 6 or 12 month membership and use coupon code: 25EA which will give you the discount.
As always, I welcome your comments and suggestions. Feel free to email me at susanne@hillbillyhousewife.com
Warm Regards,
Susanne – The Hillbilly Housewife
Sponsor
This edition of the Hillbilly Housewife is sponsored by LivingOnADime.com. The ebooks are well worth the small fee they charge for all the money saving tips and ideas that you will get out of them. I usually make up the money I pay on the ebook within less than a week (often in one shopping trip) from purchase.
Grab yours at www.hillbillyhousewife.com/livingonadime.htm
Inspirational Quote
You always have a choice, even if it is only a choice of your attitude. - Lucy MacDonald

Reader Questions
I've been getting quite a few questions about making homemade yogurt lately. Here are two of the most recent ones:
I??"ve been making my own yogurt from you recipe and it has turned out 2-3 attempts. I??"m having a problem, though, getting it thick enough. It turns out about the consistency of gravy instead of like the store bought yogurt. Do you have any tips that I could use to improve my attempts? Is it because the powdered milk is so lowfat? Should I put a little unflavored gelatin in it? If so, at what point should I add it? Thanks for your tips! I??"m totally in love with your site! – Alicia
I made some yogurt the other day and even though it was eatable I don't think it was yogurt more like cheese
it had on top what looked like whey. About 3 inches of it like it had separated. I had put in the oven at
it's lowest setting but I think it may have been to hot. I know you are busy but I was just wondering
your thoughts on the matter. – Anonymous
Both of these are actually pretty common problems when you are starting out to make yogurt. I wish it was as simple as giving you the recipe and it would turn out great every single time. Unfortunately it isn't that simple and it's because of two things that can vary…. the quality of your active yogurt cultures and the actual temperature you let the yogurt "grow" in. Remember, we're dealing with living organisms here.
If your yogurt turns out too runny, it could be one of several things. The yogurt cultures may not have been as "active" or alive as they need to be in which case you may simply want to try a different brand of yogurt as your starter. It also could have been that you didn't allow it to incubate long enough or at the right temperature. Try leaving it in longer, or try a different type of incubation. There are several of them mentioned on the homemade yogurt page. You also need to be careful not to heat your milk powder mixture over 180 F. or you risk killing not only harmful bacteria, but also the yogurt cultures.
If you end up with a mixture that separates, chances are that you incubated it at too high of a temperature. If you can't turn your oven lower, I suggest trying a different incubation method.
Making yogurt at home can be a little tricky at first and takes some trial and error. The good news is that once you figure out what will work for you, it will work almost every time.
Featured Article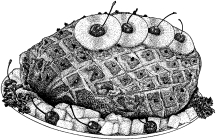 This week's featured article is all about using leftovers from previous meals and turning them into a new dinner. If you're not already doing this, you definitely should. It can save you quite a bit in both money and time. If you are doing this already, you might still want to glance through this article for some fresh ideas.
By the way, if you have some unique ideas on the topic, email them to me. I'd love to add some reader tips to the end of the article.
Frugal Tips From Our Readers
I received so many great frugal tips from our readers the past few weeks that I thought I'd skip the regular frugal tip section and just share a bunch of these submitted tips instead. I'm sure there are quite a few that you will be able to start using right away.
I have a tip to cut the cost of dryer sheets and fabric softener for that matter. Get an old washcloth or old small towel. Pour a good amount of your favorite fabric softener on it and spread it around. Not so much that it drips but a good amount. Hang to dry. When dry, you may use this as you would any dryer sheet in the dryer w/ your wet clothing. It's good for about 20 loads. When it no longer smells good or softens, you can wash it and do it again. I have 2 on hand so while one is washing, I can use the other one. Also, do NOT use fabric softener on your towels. It decreases the absorbency by coating the fibers.
Susan S.
I was at a deck party awhile back, and the bugs were having a ball biting everyone. A man at the party sprayed the lawn and deck floor with Listerine, and the little demons disappeared. The next year I filled a 4-ounce spray bottle and used it around my seat whenever I saw mosquitoes. And voila! That worked as well. It worked at a picnic where we sprayed the area around the food table, the children's swing area, and the standing water nearby. During the summer, I don't leave ho me without it.
Penny
Featured Recipe
Here's another one of my favorite recipes – Spanish Potato Tortilla. It makes for a filling lunch, or add a salad and call it dinner. The recipe calls for organic eggs, but it turns out just as well with regular eggs and really any type of potato. Just make sure you slice them thinly. If you are using leftover potatoes, cook them just long enough in the oil to get them a little crisp on the outside.
This is one of the recipes my friend Carrie shared recently. Here's the rest of them.
Reader Recipes
This week's reader recipe is from HBHW reader Todd P. and it is for a quick and easy no knead bread. Here's the recipe.
No-Knead Bread
Yields one 1 1/2 pound loaf
3 cups all-purpose or bread flour, more for dusting
¼ teaspoon instant yeast
1¼ teaspoons salt
Cornmeal or wheat bran as needed.
1. In a large bowl combine flour, yeast and salt. Add 1 5/8 cups water, and stir until blended; dough will be shaggy and sticky. Cover bowl with plastic wrap. Let dough rest at least 12 hours, preferably about 18, at warm room temperature, about 70 degrees.
2. Dough is ready when its surface is dotted with bubbles. Lightly flour a work surface and place dough on it; sprinkle it with a little more flour and fold it over on itself once or twice. Cover loosely with plastic wrap and let rest about 15 minutes.
3. Using just enough flour to keep dough from sticking to work surface or to your fingers, gently and quickly shape dough into a ball. Generously coat a cotton towel (not terry cloth) with flour, wheat bran or cornmeal; put dough seam side down on towel and dust with more flour, bran or cornmeal. Cover with another cotton towel and let rise for about 2 hours. When it is ready, dough will be more than double in size and will not readily spring back when poked with a finger.
4. At least a half-hour before dough is ready, heat oven to 450 degrees. Put a 6- to 8-quart heavy covered pot (cast iron, enamel, Pyrex or ceramic) in oven as it heats. When dough is ready, carefully remove pot from oven. Slide your hand under towel and turn dough over into pot, seam side up; it may look like a mess, but that is O.K. Shake pan once or twice if dough is unevenly distributed; it will straighten out as it bakes. Cover with lid and bake 30 minutes, then remove lid and bake another 15 to 30 minutes, until loaf is beautifully browned. Cool on a rack.
Source: http://wednesdaychef.typepad.com/the_wednesday_chef/2006/11/jim_laheys_nokn.html
I??"m Looking For ?
This section is going to be all about you. If you are looking for a particular recipe or a tip on how to do something, email it to me and I will post it in an upcoming newsletter. I??"ll give you my input and will also post any suggestions other readers of the newsletter come up with. So take a moment to write me your questions and of course if you have a tip or idea for any question posted in this section feel free to send me that as well.
Does anyone have a recipe for this?
My mother used to make a sandwich filling with ground ham or bologna, hard boiled eggs and shredded carrots. I know there was more to the recipe but can't find it anywhere. Thought maybe you'd know as it was a great way to stretch your meal. Would you know of the recipe? Donna
We're also still looking for recipes for the following.
Years ago I used to buy German black bread from an Albertson's in store bakery in Caldwell, Idaho. It was the best tasting bread I have ever eaten. It was in baguette size loaf and was actually blue in color.
I have tried numerous recipes gotten from the internet and nothing even comes close. Most Rye or black bread recipes call for more white flour than rye and completely lack that sour nutty yeasty taste that goes so well with sharp Cheddar cheese and ice cold milk. I know they specify the white flour to get the bread to rise properly but it ruins the taste for me. I don't mind adding gluten to make the rye flour rise, I just need a recipe that will bring out that unique flavor.
Even though I lived in Milwaukee for many years, a city with a large ethnic German population, I was never able to find any German black bread. Go figure, it tastes so good that they don't eat it.

I surely hope you can help me. Thanks Gary
And one more…
When I was little my mom would make a chocolate malt cake that actually was from a mix. it was light an fluffy cake. It went off the market and I wondered if anyone had a recipe for a chocolate malt cake? - Donna
And here's are some questions from the last regular issue that we got answers to:
My great aunt used to make the most delicious chocolate pound cake. Unfortunately I haven't been able to tack down the recipe. I remember that it used Hershey's chocolate syrup and that it stored really well. It actually would get better with age (if it lasted longer than a day). Does anyone have a recipe for something like it?
Sally W.
Hershey Cake
Preheat oven to 350 degrees
1 stick(1/2) c margarine
4 eggs- beaten
1 tsp baking soda
1 large can Hershey's syrup(approx 15-16 oz)
1 c sugar
1 c flour
pinch of salt
Cream margarine & sugar til creamy. Add beaten eggs. Sift and add flour, baking soda, & salt. Add Hershey's syrup. Bake in loaf pan( greased &floured) for approx 30-40 min- test for doneness.
Icing
1 1/2 c powdered sugar
3 TBSP cocoa
1 stick marg(1/2c) soft
3/4 pkg small marshmallows
1/2 c chopped nuts
1/2 tsp vanilla
Cream powdered sugar & marg w/ cocoa-add marshmallows, nuts & vanilla. Put on cake while hot.
Sorry for the approximates but my aunt did not put real specifics; like most cooks do.
Brenda J.
I'm looking for a dessert that might be regional to MN area, I lived there for awhile during grades 5-6 (approx 1986-87) and at lunchtime the school cafeteria would serve this dish that was kind of like corn bread that had a syrup poured over the top- maybe maple-but runnier? has anyone ever heard of this? Since then, I've lived in OR, and never saw anything like it again. It was really tasty. – Brandy
Re the cornmeal dessert: Sounds like it might be Indian Pudding. There are lots of recipes on the web for this. – Liz
Inspirational Story
Two Choices
Jerry is the kind of guy you love to hate. He is always in a good mood
and always has something positive to say. When someone would ask him how he
was doing, he would reply, "If I were any better, I would be twins!"
He was a unique manager because he had several waiters who had followed
him around from restaurant to restaurant. The reason the waiters followed
Jerry was because of his attitude. He was a natural motivator. If an
employee was having a bad day, Jerry was there telling the employee how to
look on the positive side of the situation.
Seeing this style really made me curious, so one day I went up to Jerry
and asked him, "I don't get it! You can't be a positive person all of the
time.
How do you do it?"
Jerry replied, "Each morning I wake up and say to myself, Jerry, you
have two choices today. You can choose to be in a good mood or you can
choose
to be in a bad mood. I choose to be in a good mood. Each time something
bad happens, I can choose to be a victim or I can choose to learn from it.
I choose to learn from it. Every time someone comes to me complaining, I
can choose to accept their complaining or I can point out the positive
side of life. I choose the positive side of life."
"Yeah, right, it's not that easy," I protested.
"Yes it is," Jerry said. "Life is all about choices. When you cut away all
the junk, every situation is a choice. You choose how you react to
situations. You choose how people will affect your mood. You choose to
be in a good mood or bad mood. The bottom line: It's your choice how you
live life."
I reflected on what Jerry said. Soon thereafter, I left the restaurant
industry to start my own business. We lost touch, but I often thought
about him when I made a choice about life instead of reacting to it.
Several years later, I heard that Jerry did something you are never
supposed to do in a restaurant business: he left the back door open one
morning and was held up at gunpoint by three armed robbers. While trying
to open the safe, his hand, shaking from nervousness, slipped off the
combination. The robbers panicked and shot him. Luckily, Jerry was
found relatively quickly and rushed to the local trauma center. After 18
hours of surgery and weeks of intensive care, Jerry was released from the
hospital with fragments of the bullets still in his body.
I saw Jerry about six months after the accident. When I asked him how he
was, he replied, "If I were any better, I'd be twins. Wanna see my scars?"
I declined to see his wounds, but did ask him what had gone through his
mind as the robbery took place. "the first thing that went through my mind
was that I should have locked the back door, " Jerry replied.
"Then, as I lay on the floor, I remembered that I had two choices: I
could choose to live or I could choose to die. I chose to live."
"Weren't you scared? Did you lose consciousness?" I asked.
Jerry continued, "…the paramedics were great. They kept telling me I was
going to be fine. But when they wheeled me into the ER and I saw the
expressions on the faces of the doctors and nurses, I got really scared.
In their eyes, I read 'he's a dead man'. I knew I needed to take action."
"What did you do?" I asked.
"Well, there was a big burly nurse shouting questions at me," said Jerry.
"She asked if I was allergic to anything. 'Yes' I replied. The doctors
and nurses stopped working as they waited for my reply. I took a deep
breath and yelled, 'Bullets!' Over their laughter, I told them, 'I am
choosing to live. Operate on me as if I am alive, not dead."
Jerry lived to give thanks to the skill of his doctors, but also because
of his amazing attitude. I learned from him that every day we have the
choice to live fully.
What are you choosing?
What??"s your inspirational story – Send me an email so I can share it with our readers. You never know whom you may inspire.
Final Thought
That??"s it for this edition of the Hillbilly Housewife Newsletter. I hope you??"ve had as much fun reading it as I had creating it for you. I also hope that you have found the information helpful and useful.
Do you have a question, a tip, a recipe or a story you??"d like to share with us? Email it to me and I??"ll include it in a future issue. Can??"t wait to see what you have to say.
Warm Wishes,
Susanne – The Hillbilly Housewife
Sponsor