Beverage Bargains, Waldorf Salad and Mexican Chicken Rice- HBHW Newsletter
April 29th 2008
Editorial
Wow, spring weather has been crazy this year. We've had pretty warm weather, but I hear it's still snowing in Wisconsin. Yesterday was a bit scary since the storms that later produced several large tornadoes in Virginia went straight through my town. We spent some time reading books in the hall bathroom just to be safe (with sirens going off every few minutes to warn us about possible tornadoes), but we got lucky and just got some much needed rain.
Speaking of Spring, thanks to everyone who emailed me about the Spring Cleaning Ebook. I'm glad it was so well received. Here's one of the wonderful emails I have gotten over the past few weeks.
"I downloaded the ebook last night. I read through it and I am so happy. I was raised by people who barley cleaned, let alone spring clean. So what I was taught clean was never really was clean.
Now I live with my finance who grew up with a clean freak. So you can only imagine the cleaning drama at our house. I say it is clean and he asks if I am joking. I look around and ask what else is there to clean? I am dumbfounded most of the time.
So after going through your book, I wrote down every thing that had to be cleaned and came up with 2 pages, front and back of things that need to be done. He will be pleasantly surprised when the house is actually clean!!! I can't wait. Thanks for all of the great tips and techniques.
Thank you for writing this book!!!!"
Angela H.
I'm happy so many of you have found it helpful and I'm already working on the next Hillbilly Housewife Ebook. If you haven't had a chance to grab your copy of the Spring Cleaning ebook ($6.95), you can get it here:
http://www.hillbillyhousewife.com/ebooks/springcleaning.htm
I hope you will enjoy this edition of the HBHW newsletter… There are quite a few money saving tips in this edition that will come in handy with the huge increases in the cost of food and gas. Make sure you don't miss the inspirational story… it made me cry.
As always, I welcome your comments and suggestions. Feel free to email me at susanne@hillbillyhousewife.com
Warm Regards,
Susanne – The Hillbilly Housewife
Sponsor
This edition of the Hillbilly Housewife is sponsored by LivingOnADime.com. The ebooks are well worth the small fee they charge for all the money saving tips and ideas that you will get out of them. I usually make up the money I pay on the ebook within less than a week (often in one shopping trip) from purchase.
Grab yours at www.hillbillyhousewife.com/livingonadime.htm
Inspirational Quote
Happiness is an attitude. We either make ourselves miserable, or happy and strong. The amount of work is the same.
- Francesca Reigler

Reader Questions
Here's this week's question:
I just made the granola bars and we love them – thank you! How do I know if the egg is cooked sufficiently? I let the peanut butter and butter melt completely and then stirred in the beaten eggs quickly. I wasn't supposed to cook the bars -right? I just put them in the fridge and then we ate them. - Amie
Yes, Amie, that's right. Since you are beating the eggs into a hot mixture of butter and peanut butter, they will cook to a save temperature. According to the FDA you want to cook the eggs to an internal temperature of 160 F, so if you'd like, you can mix in the eggs, stir in the vanilla and then check the temperature. I've never checked, but I'm sure when I make the granola, the temperature gets up there. You could also cook the butter egg mixture for a minute or so longer over low heat to be on the save side, or if money isn't that tight, use pasteurized eggs or egg beaters for any recipes that call for eggs but don't cook them… this is particularly true for something like this Orange Jubilee.
Featured Article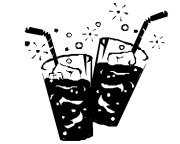 In the last regular issue of the HBHW newsletter, we talked about bargain buys. Since then grocery prices have risen even higher (along with gas and almost everything else it seems), so I figured now is as good a time as any to talk about cutting down on your grocery budget by paying attention to what you spend on drinks. Water is the main drink at our house, but you don't have to stick with just that. Here is a great article on beverage bargains.
Since saving as much as we can is on all of our minds, I have a few more articles to share with you. Browse through them and see if you don't get some new ideas for little things you can do to help you spend less. I've picked up quite a few tips and plan on implementing them this week.
How to Save On Groceries
Saving Money On Gas – quite a bit of advice from getting your car to drive further on less gas to driving less.
Frugal Tips From Our Readers
I received so many great frugal tips from our readers the past few weeks that I thought I'd skip the regular frugal tip section and just share a bunch of these submitted tips instead. I'm sure there are quite a few that you will be able to start using right away.
Hi, I love your site! Here's my tip: I put those styrofoam packing peanuts (not the ones that dissolve) into the bottom of my annual containers to take up some of the space. Potting soil can be expensive, especially when you have to get several bags of it. Since most annuals roots only go about 6 inches deep, you don't need to fill up the entire pot with soil, (unless of course the pot is only 6 inches deep). If you don't have the packing peanuts, you can cut up styrofoam packing material like what comes packed around an electronic, or breakable items in a box. I have even used rinsed out soda pop cans to take up space. I put in my packing peanuts or soda cans, I add a thin layer of newspaper on top (this prevents the soil from falling down into the bottom of the pot and helps your plants roots to retain moisture), then fill the pot to the top with soil. Just make sure that you have at least 6 inches of soil for your plants. This works great for me because I save on my soil, and it makes my pots lighter so they are easier for me to move them!
Kate C., In Arkansas.
Featured Recipe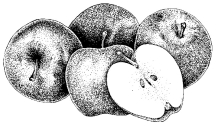 Here's another one of my favorite recipes – Waldorf Salad. I love it because it can be a side dish or a dessert. Apples are still fairly inexpensive, which makes this a great dish if you are brining something to a family gathering or a pot luck.
Reader Recipes
This week's reader recipe is from HBHW reader Jill E. and it's for Mexican Chicken Rice. This is one of these great versatile recipes that you can easily change up into a million different directions. Jill suggests quite a few add-ons and toppings, but you could use almost anything leftover in your fridge. You don't even have to use chicken. If you have some leftover turkey, pork, ground beef etc. laying around, toss it in there, or skip the meat and add some more beans and veggies instead.
And here's another great recipe for you. It's from my good friend Carrie Lauth, the author of the 365 salad recipes ebook. This salad would be perfect with the Mexican Chicken Rice.
Easy Cool Summer Veggie Salad
Ingredients:
4 large tomatoes, chopped
4 avocados, peeled, pitted and diced
1 red onion, thinly sliced
1/4 teaspoon ground black pepper
1 (8 ounce) bottle balsamic vinaigrette salad dressing
Instructions:
Place tomatoes, avocados and onion in a large mixing bowl. Sprinkle with pepper. Add salad dressing and toss to cover vegetables completely. Cover and chill in refrigerator for 1 to 2 hours. This will help all the flavors to blend together for better taste. Serve cold.
Tip: Avocados are a great source of serotonin, a helpful agent for stress relief, as well as a heart healthy fat.
I??"m Looking For ?
This section is going to be all about you. If you are looking for a particular recipe or a tip on how to do something, email it to me and I will post it in an upcoming newsletter. I??"ll give you my input and will also post any suggestions other readers of the newsletter come up with. So take a moment to write me your questions and of course if you have a tip or idea for any question posted in this section feel free to send me that as well.
Does anyone have a recipe for this?
My great aunt used to make the most delicious chocolate pound cake. Unfortunately I haven't been able to tack down the recipe. I remember that it used Hershey's chocolate syrup and that it stored really well. It actually would get better with age (if it lasted longer than a day). Does anyone have a recipe for something like it?
Sally W.
We're also still looking for recipes for the following.
Years ago I used to buy German black bread from an Albertson's in store bakery in Caldwell, Idaho. It was the best tasting bread I have ever eaten. It was in baguette size loaf and was actually blue in color.
I have tried numerous recipes gotten from the internet and nothing even comes close. Most Rye or black bread recipes call for more white flour than rye and completely lack that sour nutty yeasty taste that goes so well with sharp Cheddar cheese and ice cold milk. I know they specify the white flour to get the bread to rise properly but it ruins the taste for me. I don't mind adding gluten to make the rye flour rise, I just need a recipe that will bring out that unique flavor.
Even though I lived in Milwaukee for many years, a city with a large ethnic German population, I was never able to find any German black bread. Go figure, it tastes so good that they don't eat it.

I surely hope you can help me. Thanks Gary
And here's another one…
I'm looking for a dessert that might be regional to MN area, I lived there for awhile during grades 5-6 (approx 1986-87) and at lunchtime the school cafeteria would serve this dish that was kind of like corn bread that had a syrup poured over the top- maybe maple-but runnier? has anyone ever heard of this? Since then, I've lived in OR, and never saw anything like it again. It was really tasty. – Brandy
And one more…
When I was little my mom would make a chocolate malt cake that actually was from a mix. it was light an fluffy cake. It went off the market and I wondered if anyone had a recipe for a chocolate malt cake? - Donna
Inspirational Story
Just Five More Minutes
While at the park one day, a woman sat down next to a man on a bench near a playground.
??SThat??"s my son over there,? she said, pointing to a little boy in a red sweater who was gliding down the slide.
??SHe??"s a fine looking boy? the man said. ??SThat??"s my daughter on the bike in the white dress.?
Then, looking at his watch, he called to his daughter. ??SWhat do you say we go, Melissa??
Melissa pleaded, ??SJust five more minutes, Dad. Please? Just five more minutes.?
The man nodded and Melissa continued to ride her bike to her heart??"s content. Minutes passed and the father stood and called again to his daughter. ??STime to go now??
Again Melissa pleaded, ??SFive more minutes, Dad. Just five more minutes.?
The man smiled and said, ??SOK.?
??SMy, you certainly are a patient father,? the woman responded.
The man smiled and then said, ??SHer older brother Tommy was killed by a drunk driver last year while he was riding his bike near here. I never spent much time with Tommy and now I??"d give anything for just five more minutes with him. I??"ve vowed not to make the same mistake with Melissa.
She thinks she has five more minutes to ride her bike. The truth is, I get Five more minutes to watch her play.?
Life is all about making priorities, what are your priorities?
Give someone you love 5 more minutes of your time today!
What??"s your inspirational story – Send me an email so I can share it with our readers. You never know whom you may inspire.
Final Thought
That??"s it for this edition of the Hillbilly Housewife Newsletter. I hope you??"ve had as much fun reading it as I had creating it for you. I also hope that you have found the information helpful and useful.
Do you have a question, a tip, a recipe or a story you??"d like to share with us? Email it to me and I??"ll include it in a future issue. Can??"t wait to see what you have to say.
Warm Wishes,
Susanne – The Hillbilly Housewife
Sponsor