Crockpot Recipes, The Economy and A Little Fellow – HBHW Newsletter
October 14th 2008
Editorial
I have a bunch of stuff to share but hubby is waiting on me to help him paint our bedroom, so I better make this quick. (I told him I had to get this out to you first before I could start painting). I'm just glad it's finally cool enough on a consistent basis that we can keep the windows open and paint.
A while back I asked you to share your favorite crockpot recipes. I spent some time this weekend and added them to the website. Scroll down to the "Featured Recipe" section to read more about it and of course check out some of those delicious recipes. Just adding them to the site made my mouth water and I have some chicken cooking in the crockpot right now.
We're also getting pretty close to the Holiday season and I have another request. I'd love to add some more of your favorite recipes to the holiday recipe section. If you have a favorite dish, pie or cookie recipe (anything holiday related really), please email it to me with "Holiday Recipe" in the subject line. Don't forget to let me know what your recipe is called and how you would like me to reference your name.
Last but not least, I know the state of the economy has been on all of our minds quite a bit lately. Today it is starting to look like we may be starting to dig ourselves out of this huge mess. I'm starting to see both grocery and gas prices go down a bit this week. Unfortunately there's still a lot of people who either lost their jobs or are about to lose them and many of us had to take paycuts.
Fortunately there are some things we can do to take control and improve our situation. I'll share some of the things I have been doing in both the featured article and my frugal tip for this issue.
That's it for this week. As always, I welcome your comments and suggestions. Feel free to email me at susanne@hillbillyhousewife.com
Warm Regards,
Susanne – The Hillbilly Housewife
Sponsor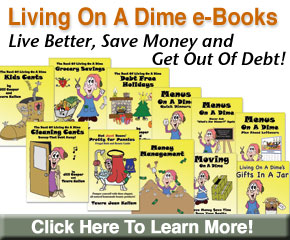 Grab yours at www.hillbillyhousewife.com/livingonadime.htm
You can now get the popular Dining on a Dime book as and ebook.
Inspirational Quote
"Happiness resides not in possessions and not in gold; the feeling of happiness dwells in the soul." - Democritus
Reader Questions
I over the weekend was blessed enough to find 4! iron skillets at garage sales. I am wanting to season them but my question is, when you say coat with shortening does that mean inside AND out? Or just inside? I hope this is not a stupid question
Thanks!
Melody
Hi Melody, that's definitely not a stupid question…. in fact it's a smart one
You do want to season your pans inside and out. I usually apply a light coating of shortening to the outside. You may want to put a cookie sheet below your pan as you bake it to catch any melting shortening. I also find that using a paper towel to apply the shortening to the outside of the pan allows me to apply a very thin layer, which is all you need to season your pan.
Featured Article
If you are following my blog, you've probably already seen the post I wrote a few days ago about the economy and getting prepared. I share some of the things I'm doing right now to make sure we are doing fine. Part of it is being prepared "just in case", but I am also doing this to feel less helpless and fearful. Doing something, anything gives me a feeling of control and keeps the fears at bay.
Take a look at all the comments toward the bottom of the article as well. Blog readers have shared quite a bit of good advise in there as well. Of course you are welcome to add your own tips and what you are doing in these trying economic times.
The Economy and Getting Prepared for a Recession or Depression.
I look forward to reading about your take on things.
Frugal Tip -Start A Baby Emergency Fund
Since we're on the topic of a failing economy and some of it's side effects, I thought this would be a great time to talk about a baby emergency fund. For years I didn't bother setting money aside "Just in case" because we were living pay check to pay check and I never had more than a few dollars left at the end of the month. But the thing is, even those small amounts can add up over the months and when you do fall on hard financial times and don't have any money coming in, every little bit will help. Take a moment to read this post about setting up an emergency fund and then set up your own. If you already have one, revise it and see if it needs beefing up.
Frugal Tips From Our Readers
Something I saw on TV today – salvage food stores. Here's a link they offered that includes a list of these stores around the country. I would like to caution shoppers to always check the expiration dates on these foods, and be cautious about buying dented cans. Otherwise, we win bigtime!
http://www.andersonscountrymarket.net/directory
The original tv story: http://www.insideedition.com/news.aspx?storyId=2206
Cathy T. Glenside, PA
I have been using your recipes for 2 months now and we are seeing grocery savings of $200-300/week!!
I was stumped as to how to make a good cracker—I've got no patience for cutting them out of dough—and I thought, "What would happen if I just baked my wheat tortillas?"
Well, what happened was fantastic crackers! I've been playing with adding tomato paste and spinach with appropriate spices and have successfully made a tomato cracker and a spinach cracker.
I'm not sure what I'll try next, but my husband and kids love them. I take the cooked tortillas, cut them into triangles and bake at 350 for 10-15 minutes (or until they are crisp).
Hope you like the idea! It's a real money saver in my house.
Kimberly S
I have a tip which might interest your readers. It does concern apples which is the main subject of this weeks newsletter so it is a timely tip as well.
When storing my dried apples I use glass quart sized mayonnaise jars which I can then seal with my vacuum sealer. Well don't you know as in all things Murphy's Law prevails and I ran out of glass jars!
The only thing I had available were some of the new (and inferior to my mind) plastic jars. I tried sealing one of those with the vacuum sealer and a regular canning lid and much to my surprise the jar did not collapse in on itself and sealed perfectly.
I just thought it might be of interest to some of your readers who use those pesky plastic jars for storing junk or stuff to know that they can be useful and to recycle more of them instead of throwing them away. Keep up the good work,
Sue
Featured Recipes

Instead of having one featured and one reader submitted recipe, I have a bunch of them for you. A few weeks ago I asked you to share some of your favorite crockpot recipes and boy did the responses start to fly in. I spent most of the weekend adding them to the site in the brand new crockpot recipe section. You'll find anything from main and side dishes to drink recipes. Here are just a few of them. I do encourage you to browse through the entire section.
Here are all the delicious crockpot recipes.

I'm Looking For ?
This section is going to be all about you. If you are looking for a particular recipe or a tip on how to do something, email it to me and I will post it in an upcoming newsletter. I'll give you my input and will also post any suggestions other readers of the newsletter come up with. So take a moment to write me your questions and of course if you have a tip or idea for any question posted in this section feel free to send me that as well.
Here's this week's requests:
I had a recipe request for the newsletter. Ages ago I worked at a restaurant that had the best Cream of Chicken Soup. I know they started with Campbell's Cream of Chicken Soup, but then added other ingredients to really doctor it up- and it was so good. I've made homemade soups trying to duplicate, but they just aren't as creamy and good. Just curious if anyone makes their Creamy Chicken soup this way and would share the recipe. Thanks!
Peggy
I cannot remember if you talked about this before in one of your newletters, but I couldn't seem to find my answer. So I'm hoping that you or some of your reader can help me. I'm having fruit flies problems. How do I get rid of them without buying those traps? I have tomatoes sitting on my window sill ripening and I don't want to throw them away (like my husband wants me to). Please help if you can.
God bless,
Jenn
I am looking for 2 things:
1. A recipe from around 20 years ago that came in a Better Homes and Gardens magazine. It is for Cranberry Conserve. It contained fresh cranberries, chopped pears, sugar, and orange juice. You could can it in a water bath canner.
2. Any ideas for a windfall of hard, crisp cooking pears. These are not the fancy store bought (soft) kind. What would you do to preserve them?????
Thanks bunches!
Jan H., Georgia
My grandmother use to work for a hospital, where she cooked for the poeple. She use to make these ruben sandwiches that were so so good. I can still remember how they tasted. No one in my family seems to have the recipet that she used. I think she baked them but some in my family think she grilled them on the stove top. I just remember that she made a lot all at once and the were always on a big bakeing sheet when she brought them over. I have that baking sheet and now I need the recipet. Does any one happen to know of one. Thanks,
Tiffany
Many Many years ago, I visited a home in VT where the hostess made this spectacular crock pot recipe that included either sweet potatoes or butternut with apples. If I remember it also had honey and perhaps there was even sausage or some other meat in it. I have tried for years to reproduce this without success. I am hoping one of your readers, or even you could help me recreate this delicious dish.
Kerry C.
I once had a terrific mac and cheese recipe (handwritten by a friend and long lost) that included to beaten eggs and cheddar cheese. It made a light and delicious dish and I would love to find it again.
Thank you for helping with this.
Louise

We are also still looking for replies to the following:
I'm looking for an old salad recipe I've had many times. The woman who made it for me called it "Ma Cole's salad" after her mother, but I am pretty sure she didn't actually make it up, so if anyone recognizes it I'd be grateful! It's a chopped salad that has lettuce, tomatoes, green olives, cauliflower and cheddar cheese. It might have some other things too. I think the dressing had pickle brine and parsley in it too, but again I'm not sure.
Megan
And here are last week's requests followed by the recipes and ideas submitted since then:
I use to make a dip for strawberries that was made from cream cheese and marshmallow cream. I have not made it in years and I forgot how. wonder if you could help with this.
Donna
In your "I'm looking for" section of your recent blog, a reader asked about a fruit dip with cream cheese and marshmallow cream.
The recipe that I use, uses one 8 oz package of cream cheese softened to room temp and one container of marshmallow cream softened in microwave for about 15 seconds. Cream the two together and chill for several hours or overnight. The chilling helps the mixture set up better. I have doubled this with no problem. This is not only great on strawberries, but most any fruit you can think of! A favorite with my kids! Julie
Donna was asking about a marshmallow and cream cheese fruit dip. Here is one that we use. Hope this is what she is looking for.
Fruit Dip
7 oz marshmallow cream
8 oz cream cheese
Soften cream cheese to room temperature. Mix the two thoroughly and whip with a beater. Refrigerate until ready to use.
Enjoy
Michelle T.
One of your readers was looking for a dip for strawberries with cream cheese and marshmallow creme. This was in your most recent edition. Maybe this is what she is looking for.
Fruit Dip
1 8oz cream cheese, softened
1 7oz marshmallow creme
3 tbsp. frozen orange juice concentrate
Blend all together and serve.
Good served with strawberries, sour apples, grapes, peaches.
anonymous
Fruit Dip:
1~ 8oz. cream cheese
1~ 7oz jar marshmallow creme
Mix together well. Serve in cool with fresh fruit.
Helen
MARSHMALLOW FRUIT DIP
1 jar (7 oz.) marshmallow cream
1 pkg. (8 oz.) cream cheese
Blend with mixer marshmallow cream and cream cheese. Chill and serve with fresh fruit (strawberries, bananas, apples, etc.).
Meredy
How funny that this question is up this week as I had this yummy treat for the first time this weekend
My host used 1 small tub of cream cheese (8 oz I believe) and a large tub of marshmallow cream (the size that appears to be almost 2 of the normal size). You can use either regular or strawberry cream cheese with equal success (she even said the flavor was very similar). She mixed together vigorously for a minute or two and then the dip was great to eat. We had leftovers that I kept in the fridge for 2 days (we ate it before it could have gone bad). We used sliced apples to eat it with and it was delicious!! I hope that helps you out!!!
Shah'ada
Does anyone have a simple recipe for cinnamon bread?
Jay
Jay was looking for a Cinnamon Bread recipe. My 14 year old daughter makes this every
week-end and has since she was 11. It is very basic and very easy. She got it on-line one Mother's Day as a surprise for me. It never lasts long at our house. It will make 1 loaf.
Cinnamon Bread
1 1/2 cup flour
1/2 teaspoon salt
2 teaspoons baking powder
1 teaspoon cinnamon
1 cup sugar
1/2 cup shortening
1 teaspoon vanilla
1/2 cup milk
1 egg
***TOPPING***
3 tablespoons powdered sugar
1/2 teaspoon cinnamon
Mix dry ingredients together, then add the vanilla, milk, and egg. Put in a greased and floured loaf pan. Sprinkle topping over top of loaf before baking. Bake at 350 degrees for 50 minutes.
Michelle T.
Easy Cinnamon Bread
2 1-pound packages refrigerated pizza dough
1 tablespoon cinnamon
1 cup sugar
8 tablespoons (1 stick) butter, melted, plus more for the pan
Heat oven to 375° F.
Tear off small bits of the dough and roll them into 1- to 1 1/2-inch balls. Place the balls on a plate.
Combine the cinnamon and sugar in a bowl.
Dip each ball in the butter, then in the cinnamon sugar. Transfer the balls to a buttered Bundt pan.
Drizzle any remaining butter over the top and sprinkle with any remaining cinnamon sugar.
Bake until golden brown, about 40 minutes. Remove from oven and let cool for 5 minutes. Place a plate on top of the pan and carefully flip it over. Tap the bottom to release the bread. Transfer to a plate and let people pull the bread apart with their fingers.
Meredy
I have a recipe that might be what Jay was looking for in a "simple cinnamon bread". It is a bread machine bread recipe and I'm not sure if Jay was looking for a quick bread recipe or a yeast bread.
My grandmother used to make it all the time in her bread machine when bread machines first came out on the market. I believe that she got the recipe off of the back of the Gold Medal Bread Flour package, but I could be wrong about that.
Cinnamon Sunrise Bread:
1-1/8 C. Water
3-1/3 C. Bread Flour
1-1/2 Tbls. Dry Milk
3 Tbls. Brown Sugar
1 tsp. salt
1/4 C. Butter or oleo
2 tsp. Cinnamon
1-1/2 tsp. fast rise yeast or 2 tsp. active dry yeast
1/2 C. chopped pecans (optional)
Place in bread machine in order of manufacturer's suggestion.
Debra B.
Recipe Name:
Cinnamon Swirl Raisin Bread
Source:
Betty Crocker Old Fashioned Cookbook
Ingredients:
1/2 Cup(s) flour
1 Cup(s) sugar
2 Teaspoon(s) salt
2 Package(s) active dry yeast
2 Cup(s) water
1/4 Cup(s) vegetable oil
2 egg
1 Cup(s) raisins
1 Tablespoon(s) cinnamon
Directions:
Mix 3 cups of flour, 1/2 cup sugar, the salt and yeast in large bowl.
Add water, 1/4 cup oil and the eggs. Beat on low speed 1 minute,
scraping bowl frequently. Beat on medium speed 1 minute, scraping bowl
frequently. Stir in raisins and enough remaining flour, 1 cup at a
time, to make dough easy to handle.
Turn dough onto lightly floured surface; kneed 8 to 10 minutes or
until smooth and elastic. Place in greased bowl; turn greased side up.
Cover and let rise in warm place about 1 hour or until double. (Dough
is ready if indentation remains when touched.)
Grease 2 loaf pans, 9 x 5 x 3 inches. Mix 1/2 cup sugar and the
cinnamon. Punch down dough; divide into halves. Flatten each half with
hands or rolling pin into rectangle, 18 x 9 inches. Brush with oil;
sprinkle with half cinnamon mixture. Roll up tightly, beginning at 9
inch side. Press each end with side of hand to seal; fold ends under
loaf. Place loaf, seam side down, in pan; brush with oil. Let rise
about 1 hour or until double.
Heat oven to 375 degrees. Bake 30-35 minutes or until loaves are deep
golden brown and sound hollow when tapped. Remove from pans. Brush
with butter, cool on wire rack.
Amamda C.
I am looking for recipes that have peaches and cream, strawberry and cream oatmeal for the crockpot. I have been searching on the internet but have not been able to find any thus far.
Tammy
Tammy was looking for an oatmeal recipe using Peaches/Strawberries and Cream. I have one that I make with Peaches but not the instant packets. I was not sure what she was looking for so I thought I would include it. This is also good with Cranberries, Strawberries, Cherries, Mangos, and Apricots. If you want the oatmeal to be a little less rich, then you can use milk. I have never tried it with straight cream but I bet it would be really good. I would not suggest using water in place of the half & half. We tried this once and it was runny and very "disgusting" as my youngest daughter put it. If you like more fruit like we do, I have added up to 1/2 c without any off results in the finished product. Anything more than that you may want to test to see if you need to adjust the other ingredients too.
Crockpot Oatmeal
1 1/2 c rolled oats
1/3 c Peaches (or other fruit of your choice)
2 c Half & Half
2 c water
Place all the ingredients in your crock pot and give it a stir to combine. Put the lid on and cook on low for 4 to 4½ hours. Use a timer so that is cooked when you wake up.
Michelle T.
Inspirational Story
A Little Fellow Follows Me
by Rev. Claude Wisdom White, Sr
A careful man I ought to be,
A little fellow follows me.
I dare not go astray,
For fear he'll go the self-same way.
I cannot once escape his eyes,
Whatever he see me do, he tries.
Like me, he says, he's going to be,
The little chap who follows me.
He thinks that I am good and fine,
Believes in every word of mine.
The base in me he must not see,
That little fellow who follows me.
I must remember as I go,
Thru summers' sun and winters' snow.
I am building for the years to be,
In the little chap who follows me.
Final Thought
That's it for this edition of the Hillbilly Housewife Newsletter. I hope you've had as much fun reading it as I had creating it for you. I also hope that you have found the information helpful and useful.
Do you have a question, a tip, a recipe or a story you'd like to share with us? Email it to me and I'll include it in a future issue. Can't wait to see what you have to say.
Warm Wishes,
Susanne – The Hillbilly Housewife
Sponsor