Salads, Chocolate Cake and Recycling Milk Jugs – HBHW Newsletter
February 14th 2008
Editorial
Happy St. Valentine's Day!
We don't usually do much for Valentine's Day as far as buying cards, jewelry of flowers go, but instead spend some quality time together, both as a couple and as a family. Our family "thing" this year is going out to lunch together. Our 5-year old daughter is old enough now to really enjoy this. We don't go out to eat much, so it's a special treat.
In addition to Valentine's Day, we'll also be celebrating the fact that she lost her first tooth this week. It caught all of us a bit by surprise. I remember being in first grade when I lost my first baby tooth. Since we didn't have a chance to talk about this first and she didn't tell us that she had a wiggly tooth, she was all worried that she didn't brush her teeth well enough and tried to hide the tooth after it fell out. I felt really bad and did my best to make up for it with lots of hugs and explaining to her that this is a natural process and that tooth was supposed to fall out. Now she's proudly displaying the gap in her teeth.
I also wanted to give you a quick update on the angel food menus. I have the menus for February – the boxes will be distributed by the participating churches within the next few weeks and I'm working on adding the recipes and menus to the site as fast as I can. As soon as the first week's worth are up, I will add a link to the main Angel Food Menu page.
Warm Regards,
Susanne – The Hillbilly Housewife
Sponsor
This edition of the Hillbilly Housewife is sponsored by LivingOnADime.com. The ebooks are well worth the small fee they charge for all the money saving tips and ideas that you will get out of them. I usually make up the money I pay on the ebook within less than a week (often in one shopping trip) from purchase.
Grab yours at www.hillbillyhousewife.com/livingonadime.htm
Inspirational Quote
"Anyone can catch your eye, but it takes someone special to catch your heart." ~Author Unknown
Reader Questions
Here's this week's question
I just had a question about the granola bars. Do you know of any way to make them without the peanut butter? We love your homemade granola, but my kids aren't fond of peanut butter. I have searched the internet and all of the cookbooks in my house, but can't come up with a way to make the homemade granola into bars without the pb. Any help would be much appreciated. I am a very bad cook, I know most people would know how to improvise, but I can barely boil water!
Thanks so much,
Marla
Good question Marla. Here is a recipe I made years ago. I thought it turned out really well, but my family just didn't care for it without the pb. Give it a try.
Granola Bar
* 1 tsp margarine
* 1 1/4 cups rolled wheat
* 1 1/2 cups toasted nuts (roughly chopped)
* 1/2 cup ground flax seed
* 1 1/2 cups granola
* 1 cup dried mixed berries
* 1 cup honey
* 1/3 cup sugar
* 1 tsp vanilla extract
* 1/2 tsp salt
Directions
Grease a 11×16 sheetpan with the margarine. Get out a small pot and heat the honey, sugar, vanilla, and salt over medium-low heat until the sugar dissolves.
Put all the dry ingredients into a bowl and mix well.
Then pour the sugar mixture over the dry ingredients and mix well until thoroughly combined. Pour into the sheet pan and using wax paper press the mixture into the pan so it is firmly and evenly dispersed.
Let it cool and then cut into bars.
And here's a reader reply to Jen's question last week about where to find dry buttermilk.
Regarding the woman asking about "powdered buttermilk"; she maybe can find it in her local grocery store in the baking section…it's called "SACO Cultured Buttermilk Blend." It costs anywhere from 4 to 6 dollars. It works like this: for 1 cup of buttermilk you use 4 tablespoons of powdered product and then add 1 cup of water. Easy and convienient! Hope this helps.
Linda
Thanks for the great suggestion Linda.
Featured Article
This week's article was written by a good friend of mine, Carrie Lauth from NaturalMomRecipes.com. It brings up a great point… we all need to make sure we have enough fiber in our diet. If you are cooking a lot with dry beans and lentils like we do, eat mostly whole wheat or whole grain products and add some fresh veggies to the mix you're probably getting plenty of fiber, but the traditional american mainstream diet is notorious about lacking this important element of our diet.
Please take a moment to read about the Health Benefits of a High Fiber Diet.
Frugal Tip
This week's frugal tip is about recycling old milk containers. If you're paying $4 a gallon for milk, you might as well get the most out of those containers after the milk is gone. Here are some ideas:
Turn them into drawer dividers or organizers by cutting the top part of the milk jug off. Just measure the height of your drawer, then measure from the bottom of the milk container to a hight just a bit lower than your drawer is deep and cut.
Use the top of a cut off milk container as a funnel.
Now that you have the perfect size funnel, reuse other milk jugs to reconstitute powdered milk.
Cut the top of the milk jug and use the bottom part as a toilet brush holder. When it gets dirty, just toss it and grab a new one.
Fill milk jugs with water and stick them in the freezer to fill up air space. Be sure not to fill the jug all the way, as the water will expand as it turns into ice.
Frugal Tips From Our Readers
I just wanted to send in a tip for homemade
popsicles: use the juice from canned fruit. Just pour
it right into whatever mold you use. Works great at no
additional cost.
Sara O.
Featured Recipe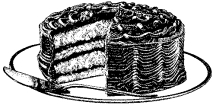 Since this is Valentine's Day, I thought I'd share one of my favorite cake recipes with you. I make this as a birthday cake or a special treat cake like for today. It's a very rich dark chocolate cake and is just divine.
Reader Recipe
Instead of a reader recipe, I would like to share a craft idea for Valentine's Day with you that fellow HBHW reader Mary Ann sent in.
I liked all of your tips for Valentine's Day. This is something I remember when I was in elementary school. I found a pattern to make homemade valentines. You need red construction paper, paper lace doilies, sticks of chewing gum and glue. You can use the stick of glue to determine what size to make your patterns.
You need three heart patterns. One larger than the lace doilies and one smaller than the doilies and one to go at the end of the gum stick to look like the "head" of an arrow. The gum stick is the shaft of the arrow and you can draw a "feather" shape pattern that can be "fringed on the sides. For each valentine, cut the three hearts and "feather" out of red construction paper. Glue the doily to the largest heart and the middlesize heart on top of the doily. Glue the stick of gum to the middlesize heart at an angle and glue the smallest heart to the top end of the gum and the feather at the bottom. The year I made these for my class, for some reason our teacher didn't have any "treats" for us and I heard one of my classmates say if they hadn't received my valentine they wouldn't have had any treats which made me feel very good.
Mary Ann
I??"m Looking For ?
This section is going to be all about you. If you are looking for a particular recipe or a tip on how to do something, email it to me and I will post it in an upcoming newsletter. I??"ll give you my input and will also post any suggestions other readers of the newsletter come up with. So take a moment to write me your questions and of course if you have a tip or idea for any question posted in this section feel free to send me that as well.
This week's question comes from fellow reader Christy.
I was wondering if you could help me out with a recipe….Years ago, my friend's grandmother would make us cracker-like snacks with white bread (almost like a melba toast). She would butter both sides of the bread and then she would bake or broil it, flipping it every so often (not really sure what exactly she did, I was only 12 ;o). The end result was a crunchy, buttery, cracker…not browned at all. So, anyway, I have a huge craving for it, and don't even know what it's called! I know if anyone can help, it's you ;o)
Thanks for your help!!!
Christy
Does anyone have a recipe for this?
Last week's question was from Denise…

I wonder if anyone has a recipe for baked Limas or butter beans. My husband's mother made them when he was a boy. Sadly she is no longer with us so I can't ask her for her help.He remembers some kind of tomato sauce and bacon laid on it before baking. It sounds good and I'm trying to add beans to our diet for cost and health. Thanks!! Denise N.
And here are the replies…
This is for Denise. The recipe sounds like my Mom's Baked Beans. She used navy beans but I am sure you could substitute. I am a dump cook as she was, so will try to give measurable amounts. In casserole dish ,9×13, put in enough prepared or canned beans to fill to within a 1/2 inch from top. Add about 1/2 cup ketchup, 2 tablespoons mustard, 2 tablespoons dark Karo syrup or brown sugar or molasses, 1/2 medium diced onion. Top with bacon slices to cover. Can cut in smaller pieces or leave whole. Bake for 45 minutes to an hour at 325 degrees. You can use more or less sweetener as your family prefers.
Good luck, Karla
Baked Lima Recipe
1 large and 1 small can butter beans
Ketchup and mustard to taste
1/4 cup brown sugar
1 small whole onion
1/2 lb bacon
Grease a 9×13 baking dish. Drain your butter beans but keep a little liquid so the beans do not dry out. Add ketchup and mustard to taste. My kids like a lot of ketchup in the beans. Stir in the brown sugar. Place the whole onion in the mixture. Lay the bacon on top in strips. Bake at 350 until the mixture is bubbly and the bacon is crispy ( but not burnt)
I hope you enjoy this recipe. – Rachel
Inspirational Story
This week??"s Inspirational Story was sent in by HBHW reader Clara. Thanks so much for sharing.
This particular newsletter came at a great time for my family. We've recently gone from one big income to one small income, and things are tight. I've just started receiving food stamps and was trying to see how to make it stretch far enough as I've got to go shopping tomorrow.
I followed the link to your meal planning article, read it, took it to heart and got started. It all took about an hour, but I am amazed! I decided to start with one week's menu. I got a clipboard and prowled my freezer and pantry, making lists of protein, starches, vegetables and staples. Then I got online and looked at the grocery weekly sales and made lists of the loss leaders and sales on items I know we use. Then, and this was the hardest part for me for some reason, I sat and made a list of meals that could be made from the things on both lists. I now have a complete menu of dinners and breakfasts (lunches are free at school and I'll eat leftovers) and a shopping list. This is where I feel amazed. Completely flabbergasted.
One week's full menu, including snacks.
Two lists, one of things to buy and one of things on hand
3 adults, 4 children
$55
Amazing! Thank you for giving me the tools to feed my family good
food without overspending my budget. This was a lifesaver
Clara
What??"s your inspirational story – Send me an email so I can share it with our readers. You never know whom you may inspire.
Final Thought
That??"s it for this edition of the Hillbilly Housewife Newsletter. I hope you??"ve had as much fun reading it as I had creating it for you. I also hope that you have found the information helpful and useful.
Do you have a question, a tip, a recipe or a story you??"d like to share with us? Email it to me and I??"ll include it in a future issue. Can??"t wait to see what you have to say.
Warm Wishes,
Susanne – The Hillbilly Housewife
Sponsor