School Lunch Ideas, Biscuits and We're On MSNBC – HBHW Newsletter
September 2nd 2008
Editorial
It's been another busy couple of weeks here at the Hillbilly Housewife website. The most exciting news is that the site was featured in an article on MSNBC.com. You can read it here – Pinching Pennies Like Your Grandparents.
Quite a few new people found us this way and joined this newsletter. If you're one of them, I'd like to welcome you to our group of homemakers, cooks and frugal minded individuals. I hope you will find some interesting and useful info in this and the coming editions.
We have quite a few "I'm looking for" requests this week. Take a moment to read through them and see if you can help out a fellow HBHW reader. Thanks for all the great suggestions for the last round of requests as well. This is quickly becoming the most popular part of this newsletter.
The Hillbilly Housewife blog keeps growing in popularity. Thanks for all the wonderful comments you keep making on the blog and via email. I appreciate the additional tips provided and it's your participation and encouragement that keep me going when I don't feel like adding to the site.
I had a few people ask if there was a way to receive email updates about the blog. I did some digging and just added a new signup box on the right hand side of the blog. Just enter your email address and you will receive daily email updates about any new posts on the blog.
Last but not least, I'm VERY excited to announce the winner of the first Hillbilly Housewife Best Website Award. In August we voted for the best family fun website and the winner is NoTimeForFlashCards.com. If you have preschool-aged kids, I encourage you to visit this site. It is full of fun crafts with plenty of pictures to help you follow along. This mom is so creative and is putting together a wonderful site.
Check the Hillbilly Housewife blog later today for the official announcement and a more detailed description of this site. I will also post this month's award category shortly and would like to invite you to nominate your favorite websites.
That's it for this week. As always, I welcome your comments and suggestions. Feel free to email me at susanne@hillbillyhousewife.com
Warm Regards,
Susanne – The Hillbilly Housewife
Sponsor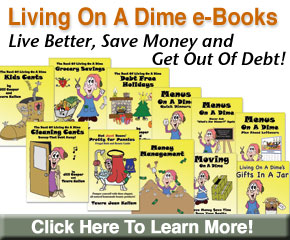 Grab yours at www.hillbillyhousewife.com/livingonadime.htm
Inspirational Quote
"Activity and sadness are incompatible." – Christian Bovee
Reader Questions
I have a question. . .I tried making yogurt. While incubating, should the container with the yogurt in it be covered, or left open?
Sherri M.
Great question Sherri. It really doesn't matter. I've done it both covered and left open. There is no particular reason to cover it other than making sure the mixture stays warm enough, and of course to avoid spillage.
I suggest you try it both ways and see which method produces your favorite yogurt. Leaving the container open will allow some of the water to evaporate and "might" result in a thicker yogurt, provided the mixture stays warm enough.
Featured Article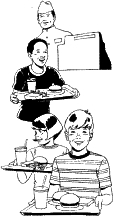 If you pack your child's school lunch, and are getting tired of fixing the same two or three meals for your child, I have just the thing for you. Here are some suggestions for school lunches. There are plenty of yummy lunch ideas in here that should keep things interesting throughout the school year.
You'll find various sandwich fillings like Pork Roast & BBQ Sauce & coleslaw, or Peanut Butter and Marshmallow Fluff as well as hot lunch ideas, things you can carry in a thermos and plenty of snack and dessert ideas. Just pick, pack and send the kids off to school with some delicious wholesome meals that will keep them going through a long school day.
Those lunch thermos ideas will come in especially handy this fall and winter.
Frugal Tip – Shop Less Often

I have a simple frugal tip for you this week that you can implement right away. In fact, if you keep up with the Hillbilly Housewife blog, it's this week's frugal challenge. Here it is… shop for groceries less often.
Each time we head to the grocery store, we end up buying a few things we don't really need and could do without. It's all that stuff that we bring home with us that wasn't on our grocery list to begin with.
If you are shopping several times a week right now, cut it back to only once a week. If you're already there, try to make that trip to the supermarket once every two week. If you have the storage and freezer space, you may even consider shopping only once a month.
Here's the blog post about shopping less often with some tips on how to prepare.
Frugal Tips From Our Readers
I was reading about your lunch box meals and how you like the blue freezer packs and wanted to share my much cheaper alternative which also works great for sprains, migraines, etc. When those blue things leak- which they do eventually- there is a toxic goo in there that gets all over everything and they are non-recyclable. Below is much safer.
3 parts tap water
1 part rubbing alcohol
1 zipper freezer bag
combine and freeze.
cheap and flexible and you can make them as small or large as you need to.
Oh, they work great around the neck in the summer too!
Jan in Phoenix AZ
Featured Recipe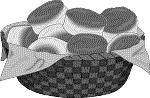 If there is one recipe I use more than any other from the HBHW recipe section, it's the homemade biscuit recipe. If I had to guess, I'd say I make them at least 3 times a week. They are great for breakfast, lunch or dinner and are usually my go-to thing when I need a hot bread with a meal and forgot to plan ahead for some yeast rolls.
Reader Recipe
Nacho Potato Soup
(Ronald McDonald Room 12/2006)
1 pkg. Au Gratin Potato dry mix
1 can Whole Kernel Corn, drained
1 can diced Rotel Tomatoes & Chiles, undrained (If you don't like spicy foods, use plain canned tomatoes)
2 c water
2 c milk
2 c cubed processed American Cheese (I only used one cup of Velveeta* and it was plenty cheesy)
Dash hot sauce – optional
In a 3-qt. saucepan, combine contents of potato package, corn, tomatoes & water; mix well. Bring to a boil. Reduce heat, cover & simmer 15-18 minutes or until potatoes are tender. Add milk, cheese and hot sauce (if desired); cook & stir until cheese is melted. Garnish with parsley if desired.
Yield: 2 qts (6-8 servings)
*Note:I'll bet this would be good with added ham chunks or browned ground beef to make it a "meal".
I tried this recipe yesterday and it was DELICIOUS!
Thought I would share.
I used store brand EVERYTHING so that helped make it a "somewhat thrifty" recipe.
Keep up the good work on that terriffic newsletter of yours!
Linda E.
I??"m Looking For ?
This section is going to be all about you. If you are looking for a particular recipe or a tip on how to do something, email it to me and I will post it in an upcoming newsletter. I??"ll give you my input and will also post any suggestions other readers of the newsletter come up with. So take a moment to write me your questions and of course if you have a tip or idea for any question posted in this section feel free to send me that as well.
Here's this week's requests:
I am from the south and am trying to find out the southern name for "cornbread" made with sugar. It is my understanding that "real cornbread" is not made with sugar and that it has a different name. Some have said "Jonnycakes" but that's like a pancake. I've tried several cooking shows, foodnetwork, etc. Would appreciate any help you can give me. – Shannon B
My husband recently picked up Lamb chops on sale at the supermarket.. I have NEVER cooked these before.. I have heard that mint and lamb go well together and I have a bottle of Mint sauce in my pantry… do you have a recipe suggestion to go with these two items? - Katie B
Do you have any recipe for homemade cream of chicken soup – either a mix or other ingredients to sub for a can? I use it as a sauce all the time. – Tracy H
When I was young My step German Grandmother use to make a rice dish with choc candy bars white rice and egg whites. and than I am lost. I was little and no one ever got the recipe. Can you help? – Vicki D
I have had a long standing love affair with Ritz crackers and crunchy peanut butter. I really don't like paying $3 for a box of crackers and often can't fit it into my budget anymore. My question is: Does anyone have a recipe to make these crackers at home? I've looked on the internet and have come up with some nice cracker recipes but nothing that comes close to the Ritz. Any suggestions? – Debbie in Southeast Texas
I have a recipe request for your newsletter. My grandmother passed away about 8 years ago. She was IMO the best cook there ever was. She use to cook for the nuns at the convent. For dessert sometimes, she would make a simple cake that had fruit cocktail in it. I remember it being very easy to make and not a lot of ingredients. Could you please ask your readers if anybody has this recipe or even remembers it. I am not sure if it was just a recipe that my grandmother made up herself as she did that often. I would love to make it for my children and also feel the comfort of my grandmother as I smell it baking in the oven. Thank you so much! – Barb in Vermont

We found a water leak in our basement and have fixed it, but we have a HUGE mold problem now. It is like looking at large bubble puffs such as the kind you see in a bubble bath. I have tried bleach – didn't do much, I have tried vinegar – acted like it was literally melting the mold but alas it has returned. Do you have a way to kill mold? I hate to resort to harsh chemicals, but I'm at my wit's end! – Beth in Roanoke, VA
And here are last week's requests followed by the recipes and ideas submitted since then:
I have a question for you , I was wondering if you have a recipe for watermelon rine pickles? My mom made them every summer for us and I would eat them as fast as she made them. My mom pasted on a few years back and all of her recipes are gone with her. I would love to make them for my kids so they can enjoy a special taste of summer as I did in my childhood. Thank you so much for all you do, and keep up the great work that you do!!!!! - Cristy from upstate New York
Watermelon Rind Pickles
Ingredients
* 4 lbs watermelon rind
* 2 cups vinegar (white)
* 2 cups water
* 4 cups sugar
* 3 cinnamon sticks
* 1 teaspoon whole cloves
* 1 teaspoon whole allspice
* 1 lemon, sliced thin
Brine
* 1/4 cup salt
* 1 quart water
Directions
Pare watermelon rind and remove all pink portions.
Cut rind into 1 x 2 inch pieces about 1 inch thick or into 3/4 by 1 inch cubes.
Weigh.
Soak rind overnight in brine made by dissolving 1/4 cup salt in each quart of water (make enough brine to cover).
Drain rind, wash in fresh water and drain.
Combine remaining ingredients and boil together 5 minutes.
Add rind a few at a time and cook until rind is clear. (Simmer about 30 min.).
Pack rind in hot sterilized jars.
Cover with boiling syrup and seal.
Spices may be tied in cheesecloth bag if desired.
Cantaloupe rind, pumpkin or winter squash rind may be cut into pieces and pickled in the same way.
Watermelon Rind Bread and Butter Pickles
Ingredients
* 8 cups cubed watermelon rind
* 2 lbs onions, thinly sliced
* 1/2 cup pickling salt
* 2 cups sugar
* 2 tablespoons mustard seeds (brown or yellow)
* 2 teaspoons turmeric
* 2 teaspoons celery seeds
* 1 teaspoon ground ginger
* 1 teaspoon peppercorn
* 3-4 cups white vinegar
Directions
To prepare the melon, use a spoon to scrape away all the pink.
Cut away the rind with a knife (this is fastest if you cut the melon into 3-inch squares).
Cut rind into strips, cubes, or chunks.
Layer the rind and onion with salt in a large bowl; cover with ice cubes.
Let stand 1 1/2 hours.
Drain and rinse.
Combine remaining ingredients in a large pan and bring to a boil over medium-high heat.
Add the rind and onions and return to a boil.
Pack hot pickles into hot, sterile jars, leaving 1/4-inch head space.
Fit with lids.
Process in boiling water for 10 minutes.
Both recipes from HBHW reader Meredy
I am looking for a recipe that had been published in the Dayton Daily News. I lost the recipe 10-15 years ago. I made contact with the newspaper but they weren't able to assist. It was a custard fruit pie that made its own crust. I remember flour, milk, vanilla, and berries but there may have been more. Mix it all together, pour into a pie plate and bake. I made it many times but lost the recipe after the berry season was over. It was absolutely delicious. I'd really appreciate help in re-creating that recipe. – Carole
Fresh Fruit Custard Pie
4 c. fresh fruit, cut in pieces
1 1/2 c. sugar
1 tbsp. cornstarch
1 egg
1/2 c. milk
1/4 tsp. cinnamon
1/4 tsp. nutmeg
Mix all ingredients together and let stand 10 minutes. Pour into unbaked pie shell. Bake 45 minutes in 350 degree oven. Crumbs may be placed on top, if desired.
Fruits you can use: Rhubarb, strawberries, peaches, blueberries, cherries, raspberries.
Meredy
In Tallassee, AL there is a place called Hotel Talisi. They serve a squash casserole that is soooo good. They won't give out the recipe but did say it had powdered ranch dressing in it. I wonder if anyone else has tried this casserole and would share the recipe. The also serve a turnip green casserole that is delicious and very different. – Dixiegrits
Super Squash
* 2 tablespoons butter
* 3 pounds yellow squash, chopped
* 2 onions, chopped
* 1 cup shredded sharp Cheddar cheese
* 1 cup mayonnaise
* 3 eggs, beaten
* 12 saltine crackers, crushed
* 1 (1 ounce) package dry Ranch-style dressing mix
* 1 teaspoon salt
* 2 cups dry bread stuffing mix
* 1/2 cup melted butter
Directions
Preheat oven to 350 degrees F (175 degrees C).
Melt 2 tablespoons butter in a large saucepan over medium-high heat. Cook squash and onions until tender. Remove from heat, and stir in Cheddar cheese, mayonnaise, eggs, crackers, Ranch dressing mix and salt.
Spread the squash mixture into a medium baking dish. Mix together stuffing and 1/2 cup melted butter, and sprinkle over the squash mixture.
Bake 20 to 30 minutes in the preheated oven, or until firm and lightly browned.
Greens and Cheese Bake
Ingredients:
* 1 1/2 pounds greens, washed and trimmed
* salt and black pepper
* 1 cup chicken or vegetable broth
* 1 cup half-and-half
* 4 tablespoons butter
* 1/4 cup flour
* 1/2 cup grated Parmesan cheese
* 1/2 cup ricotta cheese (whole milk or part skim)
* 3 tablespoons dry bread crumbs
* 2 ounces Mozzarella cheese, shredded
Preparation:
Butter a 1 1/2-quart baking dish or casserole; preheat the oven to 375 degrees or 350 degrees for oven-proof glass.
Cut out and discard the tough stems; if using kale or collards, cut out thick center ribs. Rinse all the greens and shake off any excess water, chop them into 1/2-inch pieces. In a large skillet, cook the greens over low heat, adding them by handfuls and stirring them down as they wilt. Add 1/2 cup of water if the greens seem dry, then cover the skillet and braise for 10 to 15 minutes, or until tender. Pour off any liquid left in the skillet, then season the greens with salt and pepper. Transfer to a bowl and set aside.
Heat the broth and half-and-half in a saucepan, just until bubbles form around the edge of the pan.
In the large skillet, melt the butter over low heat. Add the flour and cook, stirring, for one minute. Add the hot broth mixture all at once and stir over medium heat until the sauce is smooth and thickened. Whisk in the grated Parmesan and ricotta. Stir the greens into the cheese sauce and pour the mixture into the prepared baking dish. Sprinkle with the bread crumbs and then sprinkle the grated mozzarella over the top; bake for 20 minutes, or until the sauce is bubbling and the mozzarella is melted and lightly browned. Serve immediately.
Serves 6.
Meredy
Turnip Green Casserole (found at Georgia Fruit & Vegetable Growers Association www.gfvga.org)
2 cups cooked, drained and chopped turnip greens*
1 (10 oz) can cream of mushroom soup
1/2 cup mayonnaise
1 teaspoon horseradish
1 teaspoon sugar
3 tablespoons white wine vinegar
3 eggs, beaten
salt and pepper to taste
vegetable cooking spray
1/4 cup bread crumbs (more to taste)
1 cup grated cheddar cheese (more to taste)
Preheat oven to 350 degrees. In a large bowl mix turnips greens, soup and mayonnaise. Add horseradish, sugar, wine vinegar and eggs. Mix well. Season with salt and pepper to taste. Spray a 11×7 casserole dish with vegetable cooking spray. Pour mixture into prepared pan. In a separate bowl, combine the bread crumbs and grated cheese. Sprinkle cheese mixture over top of casserole. Bake for 1 hour. Serve immediately. Makes 10 (1/2 cup) servings.
*1 (16 oz.) package of frozen turnip greens may be substituted for fresh greens
Super Squash casserole
INGREDIENTS
* 2 tablespoons butter
* 3 pounds yellow squash, chopped
* 2 onions, chopped
* 1 cup shredded sharp Cheddar cheese
* 1 cup mayonnaise
* 3 eggs, beaten
* 12 saltine crackers, crushed
* 1 (1 ounce) package dry Ranch-style dressing mix
* 1 teaspoon salt
* 2 cups dry bread stuffing mix
* 1/2 cup melted butter
DIRECTIONS
1. Preheat oven to 350 degrees F (175 degrees C).
2. Melt 2 tablespoons butter in a large saucepan over medium-high heat. Cook squash and onions until tender. Remove from heat, and stir in Cheddar cheese, mayonnaise, eggs, and crackers. Season with Ranch dressing mix and salt.
3. Spread the squash mixture into a medium baking dish. Mix together stuffing and 1/2 cup melted butter, and sprinkle over the squash mixture.
4. Bake 20 to 30 minutes in the preheated oven, or until firm and lightly browned.
Sandra G.
Inspirational Story
PAID IN FULL
Author Unknown
A young man was getting ready to graduate from college. For many months he had admired a beautiful sports car in a dealer's showroom, and knowing his father could well afford it, he told him that was all he wanted.
As Graduation Day approached, the young man awaited signs that his father had purchased the car. Finally, on the morning of his graduation, his father called him into his private study. His father told him how proud he was to have such a fine son, and told him how much he loved him. He handed his son a beautifully wrapped gift box.
Curious, and somewhat disappointed, the young man opened the box and found a lovely, leather-bound Bible, with the young man's name embossed in gold. Angry, he rose his voice to his father and said "with all your money, you give me a Bible?" and stormed out of the house.
Many years passed and the young man was very successful in business. He had a beautiful home and wonderful family, but realized his father was very old, and thought perhaps he should go to him. He had not seen him since that graduation day. Before he could make arrangements, he received a telegram telling him his father had passed away, and willed all of his possessions to his son. He needed to come home immediately and take care of things.
When he arrived at his father's house, a sudden feeling of sadness and regret filled his heart. He began to search through his father's important papers and saw the still gift-wrapped Bible, just as he had left it years ago. With tears, he opened the Bible and began to turn the pages. His father had carefully underlined a verse, Matt.7:11, "And if ye, being evil, know how to give good gifts to your children,how much more shall your Heavenly Father which is in Heaven, give to those who ask Him?"
As he read those words, a car key dropped from the back of the Bible. It had a tag with the dealer's name, the same dealer who had the sports car he had desired. On the tag was the date of his graduation, and the words PAID IN FULL.
How many times do we miss God's blessings because we can't see past our own desires?
Final Thought
That??"s it for this edition of the Hillbilly Housewife Newsletter. I hope you??"ve had as much fun reading it as I had creating it for you. I also hope that you have found the information helpful and useful.
Do you have a question, a tip, a recipe or a story you??"d like to share with us? Email it to me and I??"ll include it in a future issue. Can??"t wait to see what you have to say.
Warm Wishes,
Susanne – The Hillbilly Housewife
Sponsor