Quiche, Clothes Drying and Exciting News – HBHW Newsletter
August 20th 2008
Editorial
Hi there… taking things slowly over the summer while we were traveling has really sparked my creativity. If you haven't been to the HBHW Blog in the past week or so, you may want to take a look. I've gotten in the habit of posting something new on there just about every single day of the week.
Monday's are Frugal Challenge days. Feel free to participate. Last week, I challenged everyone to make one bean dish that week. This week we're trying to make due without a dryer.
Tuesdays are all about tidying up. I'll share a quick tip on how to clean something. This week we tackled the fridge.
Wednesdays and Thursdays as well as Saturdays don't have a particular theme but I'll always share something interesting and hopefully useful. Most of those posts will be various frugal tips.
Friday is Frugal Fun day. Those are simple things you can do with your family that won't cost a lot. Last Friday we talked about Backyard Olympics.
I also asked on the blog a while back what you thought about the idea of having some Hillbilly Housewife Website awards. The response was a definite yes, and I'm excited to present the first of many awards. This month we are voting on the Best Family Fun website. There's a voting box in the side bar. Take a second to vote for your favorite among those nominees. Voting closes on August 31st. I will announce the winner and review that particular site in a post in early September. Shortly after that I will accept nominations for the next round of web awards. Just keep an eye on the blog for those.
A big huge Thank You goes out to everyone that submitted a recipe in reply to the "I'm looking for" section. You sent a bunch of great recipes in that I can't wait to try.
That's it for this week. As always, I welcome your comments and suggestions. Feel free to email me at susanne@hillbillyhousewife.com
Warm Regards,
Susanne – The Hillbilly Housewife
Sponsor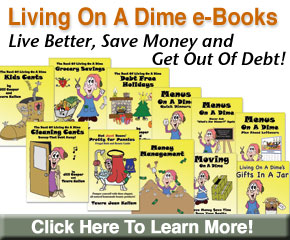 Grab yours at www.hillbillyhousewife.com/livingonadime.htm
Inspirational Quote
"Learn from yesterday, live for today, hope for tomorrow."
- Albert Einstein
A Request
I have a request. I would love to add an extensive crockpot recipe section to the site. If you have a great recipe for anything (preferably frugal or inexpensive) that can be cooked in a slow cooker, email me with "crockpot recipe" in the subject line. Let me know how you would like me to post your name with the recipe. You're also welcome to add a little story about the history of the recipe if you'd like.
Reader Questions
My daughter starts back to school next week and tells me she??"d like tuna sandwiches in her lunch. I??"m not so much worried about any mayo going bad but I do wonder about the sogginess level. I suggested I could send it in a container and she could put it on the bread herself but she doesn??"t want to try that.
Do you find sogginess a problem with tuna? What if I packed it the night before?which is what I usually do to avoid the morning rush. Any input is appreciated.
Julie
And here's my solution for this Tuna Sandwich Problem
Featured Article
photo credit: chatirygirl
If you've been to the Hillbilly Housewife Blog recently, you may have seen this article already. I've been getting such great feedback about it (just look at all those wonderful comments), I thought it would be worth mentioning it in the newsletter as well in case you missed it. The article is all about saving money by using a clothes line instead of throwing everything in the dryer. The savings aren't just on your power bill…
Frugal Tips – Saving Jars

Do you have a big expense coming up for something fun in the near future? Maybe your kids want some new backyard toys, you're planning to take weekend trip this fall, or just want to go out for dinner once a month. Set up a savings jar. This can be anything from a cup to a decorated jar or container. Add a label to let every one in the family know what the savings are for and set it somewhere you will see it throughout the day. Mine sits on the kitchen counter.
As you find money in the couch, or empty your pockets when you get home, drop your change in the savings jar and encourage the rest of your family to do the same. You won't really miss the money this way and you'll be surprised how quickly it all ads up.
Frugal Tips From Our Readers
My hint for the day…..and I'm sure you've heard it bhttp://www.meredy.com/efore but I'll share it again….is to fill a clean spray bottle with 1/4 cup of fabric softener, fill the bottle to the top with water, shake well and spray 8 or 9 times into the dryer after placing your wet clothes there. Takes the place of dryer sheets.
Grammi E
Featured Recipe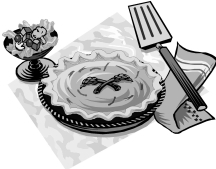 This week's I picked this simple but delicious quiche recipe. I love how versatile it is. The main ingredients are basic enough that I usually have everything I need for this dish in my kitchen. At the same time you can easily change the recipe and add all kinds of extra ingredients (like leftover veggies or meat).
I've made this for breakfast, lunch and dinner. For dinner I usually add a salad or some steamed veggies as a side. Leftovers always make a great breakfast the next morning.
I??"m Looking For ?
This section is going to be all about you. If you are looking for a particular recipe or a tip on how to do something, email it to me and I will post it in an upcoming newsletter. I??"ll give you my input and will also post any suggestions other readers of the newsletter come up with. So take a moment to write me your questions and of course if you have a tip or idea for any question posted in this section feel free to send me that as well.
Here's this week's requests:
I have a question for you , I was wondering if you have a recipe for watermelon rine pickles? My mom made them every summer for us and I would eat them as fast as she made them. My mom pasted on a few years back and all of her recipes are gone with her. I would love to make them for my kids so they can enjoy a special taste of summer as I did in my childhood. Thank you so much for all you do, and keep up the great work that you do!!!!! - Cristy from upstate New York
I am looking for a recipe that had been published in the Dayton Daily News. I lost the recipe 10-15 years ago. I made contact with the newspaper but they weren't able to assist. It was a custard fruit pie that made its own crust. I remember flour, milk, vanilla, and berries but there may have been more. Mix it all together, pour into a pie plate and bake. I made it many times but lost the recipe after the berry season was over. It was absolutely delicious. I'd really appreciate help in re-creating that recipe. – Carole
In Tallassee, AL there is a place called Hotel Talisi. They serve a squash casserole that is soooo good. They won't give out the recipe but did say it had powdered ranch dressing in it. I wonder if anyone else has tried this casserole and would share the recipe. The also serve a turnip green casserole that is delicious and very different. – Dixiegrits
And here are last week's requests followed by the recipes and ideas submitted since then:
I'm looking for a recipe for a dessert made in the 70′s. When I first ate it at someones home,they used pineapple, pecans, whipped cream and other things (don't know) and they added a bottle of 7 up of all things
thanks you gladys51633

7 Up Cake Recipe
I just wanted to share this recipe with you for the reader request. The recipe for the 7-up cake is as follows:
1 box lemon cake mix
1 (3-3/4oz.) box instant pineapple pudding mix
4 eggs beaten
3/4 cup cooking oil
10 oz.of seven up Mix all ingredients bake in a loaf pan (13 by 9 by2) for 40 to 45 minutes or until done
Icing: 1 stick of margarine/ 2 eggs beaten/ 1-1/2 cups sugar/ 1-1/2 tbsp. flour/ 1 (8-1/4 oz). can of pineapple/ 1 cup of flaked coconut
Mix and cook over low heat until thick. Cool. Add coconut and spread on the cake. Hope this helps!!
Mollie
7-Up Salad
Ingredients:
1 large pkg. lime Jello
1 cup water
3 ounces cream cheese
32 miniature marshmallows
1 small can crushed pineapple
2 tablespoons mayonnaise
1 can 7-Up
1/2 cup chopped pecans (optional)
Directions:
Dissolve gelatin in boiling water & stir in cream cheese. Add remaining ingredients. Fold in nuts, if desired, when partially set. Pour into mold. Refrigerate until firm.
Meredy
and another one…
I have decided to grow some ground cherries in my garden this yr. but my problem is I do not have any recipes to make the jam or sauce. I was wondering if you could possibly give me some.
Thank you very much for your help.
Judy B
Ground Cherry Jam
Make a syrup of 1½ cups sugar, 3 cups water and the juice of 2 lemons. Boil 5 minutes. Add enough ground cherries to reach the top of the syrup. Boil slowly until cherries are tender and clear. If desired, can and seal in sterilized jars as you would other fruit.
Ground Cherry Preserves
4 cups ground cherries
6 cups sugar
2 cups cut up cooking apples
1 cup crushed pineapple, drained
Cook together until thick, about 20 to 25 minutes. Put in jars and seal or freeze. Use as jam or on ice cream.
- Meredy
and here is one more:
My garden is really growing and I need some new or just new-to-me recipes for zucchini, yellow squash and tomatoes. Not necessarily in the same dish, but my family is getting tired of the way I am preparing them. Freezing, canning and pickling are options, too, but I am a novice. I need to know step-by-step.
Thanks in Advance,
Connie
Here are the replies for Connie
Zucchini Soup
3 cups zucchini (wash young ones and do not peel)
1/2 cup chopped onions
1/3 -1 teaspoon seasoned salt
1/2 cup water
2 teaspoon chicken stock base
Cook soup ingredients together until tender. put in blender until well mixed. this base can be made as many times as you like and freeze for a quick soup. When you want to serve the soup, add to white sauce
White Sauce
2 Tablespoons butter
2 Tablespoons flour
1 3/4 cups milk (may add more if you like it thinner)
1/2 teaspoon salt
pepper to taste
Melt butter in pan. stir in flour to make a paste. Gradually add milk until thickened and bubbling. season to taste.
We like this recipe very much! You can make it heartier by adding bacon or cheese or sausage.
Joanna
I read your newsletter today, I love hearing from you! Just wanted to reply to the gal that wanted some new recipes for zucchini, yellow squash, etc. Just today I experimented with grated zucchini (there was about 2+ cups,) 1 diced tomatoe, small diced yellow onion, and a half of a green peeper diced. I added about a cup of bisquick (flour would probably be fine too) 2 eggs and a half a cup of milk. Mixed it all together, then used a 1/4 cup measuring cup to scoop the mixture into a frying pan with some hot oil, smooshed them down, flipped them after about three minutes and left them to cook another three minutes or so. My husband and kids loved my zucchini pancakes! Hope this helps and maybe you can share it with your fellow hillbillies!
Geri Krempa
Carol wrote asking for a recipe that used zucchini, yellow squash and
tomatoes. Her request made me think of my favorite "Ratatouille"- like the
mouse in a recent animated movie. It's basically a vegetable stew but the
flavor is so much more than its parts and it is best with ripe summer
tomatoes.
Layer in a Dutch oven: oil to cover the pan
minced garlic 2-6 cloves depending on how much you enjoy garlic
One sliced onion
One sliced green or red bell pepper
3-4 medium zucchini sliced ( I have used yellow squash too)
One eggplant, peeled and cubed
4 big tomatoes sliced
Salt to taste
Put the lid on and simmer the whole thing for about an hour. All the
vegetables break down and get juicy. The first time I had it I kept asking
what the seasoning was. Somehow the combination of vegetables and garlic
really make something new. I like this as a sauce for macaroni or spaghetti
noodles. Last week I put in broken up crust of buttered toasted bread. A
sprinkle of parmesan makes a nice topping.
The eggplant really disappears and nobody will know it's there, in case
there are people in your house who think they don't like eggplant.
I don't know if anyone has sent in a recipe for "Thunder Cake" but it's a
chocolate cake with tomatoes in it that you cannot taste they just add
moisture. It comes from a really nice children's book by that same name by
Patricia Polacco.
Valerie in Georgia
Zucchini Cobbler
ZUCCHINI COBBLER TASTES LIKE APPLE PIE
1½ hours | 30 min prep
SERVES 8 -10
* 8 cups zucchini
* 1 cup sugar
* 3 tablespoons flour
* 1 dash salt
* 1 teaspoon cinnamon
* 3/4 teaspoon cream of tartar
* 1 tablespoon lemon juice
* 1 (10 ounce) can crushed pineapple
* 1 box yellow cake mix or white cake mix (Jiffy)
* 1/2-1 cup butter, melted
* 1/2 cup nuts, chopped (optional)
1. PEEL AND CUT ZUCCHINI LENGTHWISE, STRIP OUT SEEDS, CUT IN 1/2″ SLICES, COOK IN BOILING WATER UNTIL TENDER.
2. DRAIN, COOL IN COLD WATER FOR 5 MINUTES.
3. DRAIN, ADD SUGAR, FLOUR, SALT, CINNAMON, CREAM OF TARTER AND LEMON JUICE.
4. STIR WELL.
5. ADD PINEAPPLE AND JUICE.
6. MIX WELL.
7. DO NOT BEAT.
8. POUR INTO A GREASED BAKING DISH (13X9″ pan).
9. SPREAD DRY CAKE MIX OVER TOP.
10. DRIZZLE BUTTER OVER CAKE MIX.
11. SPRINKLE NUTS ON TOP.
12. BAKE AT 350F degrees FOR 60 MINUTES.
Zucchini Brownies
Prep Time: 15 Minutes
Cook Time: 30 Minutes Ready In: 45 Minutes
Yields: 24 servings
"Delicious and moist, these zucchini brownies will send you reeling with pleasure!"
INGREDIENTS:
1/2 cup vegetable oil
1 1/2 cups white sugar
2 teaspoons vanilla extract
2 cups all-purpose flour
1/2 cup unsweetened cocoa
powder
1 1/2 teaspoons baking soda
1 teaspoon salt
2 cups shredded zucchini
1/2 cup chopped walnuts
6 tablespoons unsweetened
cocoa powder
1/4 cup margarine
2 cups confectioners' sugar
1/4 cup milk
1/2 teaspoon vanilla extract
DIRECTIONS:
1. Preheat oven to 350 degrees F (175 degrees C). Grease and flour a 9×13 inch baking pan.
2. In a large bowl, mix together the oil, sugar and 2 teaspoons vanilla until well blended. Combine the flour, 1/2 cup cocoa, baking soda and salt; stir into the sugar mixture. Fold in the zucchini and walnuts. Spread evenly into the prepared pan.
3. Bake for 25 to 30 minutes in the preheated oven, until brownies spring back when gently touched. To make the frosting, melt together the 6 tablespoons of cocoa and margarine; set aside to cool. In a medium bowl, blend together the confectioners' sugar, milk and 1/2 teaspoon vanilla. Stir in the cocoa mixture. Spread over cooled brownies before cutting into squares.
Deb T.
Zucchini Relish
Makes 4 half-pints
* 2 cups chopped zucchini
* 1 cup chopped onion
* 1/2 cup chopped sweet green pepper
* 1/2 cup chopped sweet red pepper
* 2 tablespoons salt
* 1 3/4 cups sugar
* 2 teaspoons celery seeds
* 1 teaspoon mustard seeds
* 1 cup cider vinegar
Directions
Combine zucchini, onion, green and red peppers; sprinkle with salt, cover cold water.
Let stand 2 hours. Drain. Then rinse and drain thoroughly.
Combine remaining ingredients in a large saucepot. Bring to a boil.
Add vegetables: simmer 10 minutes.
Pack hot relish into hot jars, leaving 1/4 inch head space.
Remove any air bubbles. Adjust 2-piece caps.
Process 10 minutes in a boiling-water canner.
Meredy
Inspirational Story
The Rose
Author unknown
John Blanchard stood up from the bench, straightened his Army uniform, and studied the crowd of people making their way through Grand Central Station. He looked for the girl whose heart he knew, but whose face he didn't, the girl with the rose.
His interest in her had begun thirteen months before in a Florida library. Taking a book off the shelf he found himself intrigued, not with the words of the book, but with the notes penciled in the margin. The soft handwriting reflected a thoughtful soul and insightful mind. In the front of the book, he discovered the previous owner's name, Miss Hollis Maynell.
With time and effort he located her address. She lived in New York City. He wrote her a letter introducing himself and inviting her to correspond. The next day he was shipped overseas for service in World War II. During the next year and one month the two grew to know each other through the mail. Each letter was a seed falling on a fertile heart. A romance was budding.
Blanchard requested a photograph, but she refused. She felt that if he really cared, it wouldn't matter what she looked like. When the day finally came for him to return from Europe, they scheduled their first meeting – 7:00 PM at the Grand Central Station in New York. "You'll recognize me," she wrote, "by the red rose I'll be wearing on my lapel." So at 7:00 he was in the station looking for a girl whose heart he loved, but whose face he'd never seen. I'll let Mr. Blanchard tell you what happened:
A young woman was coming toward me, her figure long and slim. Her blonde hair lay back in curls from her delicate ears; her eyes were blue as flowers. Her lips and chin had a gentle firmness, and in her pale green suit she was like springtime come alive. I started toward her, entirely forgetting to notice that she was not wearing a rose. As I moved, a small, provocative smile curved her lips. "Going my way, sailor?" she murmured. Almost uncontrollably I made one step closer to her, and then I saw Hollis Maynell. She was standing almost directly behind the girl. A woman well past 40, she had graying hair tucked under a worn hat. She was more than plump, her thick-ankled feet thrust into low-heeled shoes. The girl in the green suit was walking quickly away. I felt as though I was split in two, so keen was my desire to follow her, and yet so deep was my longing for the woman whose spirit had truly companioned me and upheld my own. And there she stood. Her pale, plump face was gentle and sensible, her gray eyes had a warm and kindly twinkle. I did not hesitate. My fingers gripped the small worn blue leather copy of the book that was to identify me to her. This would not be love, but it would be something precious, something perhaps even better than love, a friendship for which I had been and must ever be grateful. I squared my shoulders and saluted and held out the book to the woman, even though while I spoke I felt choked by the bitterness of my disappointment. "I'm Lieutenant John Blanchard, and you must be Miss Maynell. I am so glad you could meet me; may I take you to dinner?" The woman's face broadened into a tolerant smile. "I don't know what this is about, son," she answered, "but the young lady in the green suit who just went by, she begged me to wear this rose on my coat. And she said if you were to ask me out to dinner, I should go and tell you that she is waiting for you in the big restaurant across the street. She said it was some kind of test!" It's not difficult to understand and admire Miss Maynell's wisdom. The true nature of a heart is seen in its response to the unattractive.
"Tell me whom you love," Houssaye wrote, "And I will tell you who you are…"
What??"s your inspirational story – Send me an email so I can share it with our readers. You never know whom you may inspire.
Final Thought
That??"s it for this edition of the Hillbilly Housewife Newsletter. I hope you??"ve had as much fun reading it as I had creating it for you. I also hope that you have found the information helpful and useful.
Do you have a question, a tip, a recipe or a story you??"d like to share with us? Email it to me and I??"ll include it in a future issue. Can??"t wait to see what you have to say.
Warm Wishes,
Susanne – The Hillbilly Housewife
Sponsor