Frugal Homemade Remedies and Ezekiel Bread- HBHW Newsletter
May 19th 2009
Editorial
Where has this past week gone? Time seems to fly even faster than usual. I took a break from writing the next HBHW club report to put this week's newsletter together for you and as always had a lot of fun doing so. I think this weekly format is working out well for now.
I have a request of my own this week. It's starting to get pretty hot here in the south and I prefer to use my oven and stove as little as possible during those hot summer months. I'm sure many of you feel the same way. I'd love to hear your tips, suggestions and recipes for summer cooking. This can be anything from using your toaster oven, microwave and crockpot, to recipes for cool meals and of course grilling. Email me your suggestions and recipes with "Summer Cooking " in the subject line of your email. I'll compile everything and will add it to the HBHW website.
Also… today is the last day that the Freezer Cooking Made Simple ebook is on sale for $5. If you've been thinking about getting it, now is a great time to order it.
We have a lot of "I'm looking for" requests again this week and still quite a few that didn't get a response last week. Take a moment to read through them and see if you can't help out a fellow HBHW reader.
That's it for this week. As always, I welcome your comments and suggestions. Feel free to email me at susanne@hillbillyhousewife.com
Warm Regards,
Susanne – The Hillbilly Housewife
Sponsor
Grab your copy of my Freezer Cooking Made Simple guide at www.hillbillyhousewife.com/ebooks/freezercooking.htm. It's on sale this week for $5  through the end of TODAY!

Inspirational Quote
Years teach us more than books. – Berthold Auerbach
Reader Question
My husband will be having major surgery in June and will be on an ALL LIQUID DIET for 6 weeks with no exceptions. He will not have the use of his moth for chewing and if he tries he will undo all of the surgery results. I want to start preparing for those 6 weeks now and stock up on things he can eat. All I am thinking of is fruit smoothies, yogurts, milk shakes and ensures (for the vitamins). Do you have any ideas or can you ask your readers if they have any ideas on things I can make for him so he isn't starving all the time, wont lose out on nutritions, and is good to eat. LOL, his idea is just for me to grill a steak and stick it in the blender, so any help to keep him out of my kitchen searching for something good and fulfilling to eat would be awesome.
Megan
Hi Megan,
Here are some of my own ideas….I'm sure our readers will have some additional ones to pass along as well. Try making some of the tofu pudding here http://www.hillbillyhousewife.com/category/recipes/dessert/pudding
Tofu is full of protein. You can add some extra water, milk or soy milk to make them more liquidy.
As far as your husband's request to just throw everything in the blender goes, that's not as crazy as you may think. I make a creamy chicken soup all the time, that's basically just leftover cooked chicken, baked potato or leftover rice, veggies and chicken broth. Put everything in the blender then heat in the microwave. If I am making this just for myself, I use my magic bullet (I'm sure you've seen the infomercial). You can blend enough for one person and also microwave and serve it in the same cup.
I've mostly done this with chicken and turkey, but I don't see why you couldn't do it with beef as well.
My wonderful new assistant Julianna also had this idea:
One suggestion may be to make him some fruit smoothies with milk and protein powder. The protein powder will help to keep him filled up. If you can sneak it past him, try adding a few handfuls of fresh spinach to the smoothie as well. I promise he won't taste it and the iron will help build his immune system back up. Hope that helps!
If any of our readers have some additional ideas, please  email them to me and I'll pass them along to Megan.

News From The HBHW Club
This is a new section of the newsletter. Each week I'm going to share some tidbits of what's going on at the HBHW Club with you. I hope you enjoy these extra tips, recipes and ideas and of course would love to have you join the club. As a HBHW newsletter subscriber, you can join for only $10 per month here:
http://www.hillbillyhousewifeclub.com/special.html
Here's one of the recipes that were submitted this past week.
Cheesy Spinach Rice Bake
* 2 pkgs frozen chopped spinach, thawed and drained well
* 1 cup cooked rice
* 1 cup milk
* 2 eggs, beaten
* 1 cup shredded sharp Cheddar cheese
* 1 tsp finely minced onion
* 1 tsp salt
* black pepper to taste
In large bowl, combine rice, milk, eggs, and cheese, mixing until well combined.  Then stir in the onion, salt and pepper.  Now add the spinach, combining everything together, then pouring into a well greased shallow baking dish.  Bake in a 350 degree oven for about 25 to 30 minutes or until the mixture is nice and bubbly hot and the cheese is good and melted.
I seem to always be trying to find ways to make vegetable dishes that are certified kid-friendly.  This one works very well for most finicky kids.
Some other recipes recently added are:
Homemade Orange Julius
Key Lime Pie
Dutch Lima Bean Casserole
Savory Sweet Carrots
Asparagus Tips Casserole
Chocolate Fudge Ice Cream Pie
This week we've been talking a lot about modest dressing and reorganizing and minimizing our wardrobe and the toys in our kids rooms.
Ready to join us? We'd love to have you! http://www.hillbillyhousewifeclub.com/special.html
Featured Article
I started thinking about this week's article over the weekend when we all came down with a cold. I considered picking up some over the counter cold medicine, but when I realized how much that was going to cost me between day and nighttime stuff and different versions for adults and kids, I decided to give some good old homemade remedies a try first. They worked like a charm, so I got my granny and my mother-in-law on the phone and drilled them about remedies for all kinds of little aliments. The more we talked about it, the more I remember using. The Frugal Homemade Remedies article lists everything I've come up with over the past few days. I'm sure there are many more out there and hope you will take the time to leave a comment if you can think of something else that has worked for you.
Here's the article – Frugal Homemade Remedies
Frugal Tip – Cleaning Cookie Sheets and Pans

I was complaining to an older friend that my cookie sheets and baking pans are starting to look really bad, no matter how hard I scrub them. They are still fine otherwise, so I'd hate to throw them out, but those stains and spots are really bothering me.
She suggested soaking them in a mixture of water and borax and boy does it work… they look almost like new and I couldn't be happier.
Frugal Tips From Our Readers
I really liked the ideas for oatmeal as we also eat
a lot of it in our home. Something we do is mix a packet of dry Jello into
the oatmeal. One packet works for 7 servings and there are a ton a flavors
to choose from. My kids love strawberry, peach, and cherry Jello flavoring
in their oatmeal. We tried orange this morning and was shocked that we
liked it. It was kinda like a creamsickle. We get them at Save-a-lot for .25
each. Just thought that'd be fun to share.

Ann
Buy your socks all the same color then when you either lose one or get a hole in one, you will be able to pair it up with another that has lost its mate etc.
Gayle.
Featured Recipe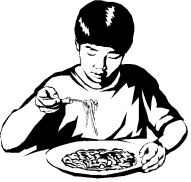 We had today's featured recipe for dinner last night. It's always a big hit with both my husband and our daughter. I thought you might enjoy it as well. It's Vegetables Lo Mein. I cracked a few eggs, scrambled them up with some soy sauce and added them toward the end to make it a more filling main dish.


Reader Recipe
It's time for some HBHW reader submitted recipes. Both of them sound really good. The first is fro a breadmaker Ezekiel bread. Thank you Bonnie for sharing this family recipe and for taking the time to write such detailed instructions.
The other recipe is for tortilla soup. Thanks go to Jo Ann for sharing this recipe. I saw a movie by the same name a few years ago and have been wanting to make this kind of soup since then. I'm going to try to make it on Sunday and will let you know how it goes.
I'm Looking For:
This section is going to be all about you. If you are looking for a particular recipe or a tip on how to do something, email it to me and I will post it in an upcoming newsletter. I'll give you my input and will also post any suggestions other readers of the newsletter come up with. So take a moment to write me your questions and of course if you have a tip or idea for any question posted in this section feel free to send me that as well.
Here's this week's requests:
My grandmother use to make sorghum molasses candy…almost like a taffy. I haven't been able to find a recipe. I have very fond memories of buttering our hands and pulling the candy and would like to do the same with my children.
Stephanie H.
I have a question that I'm hoping you could possibly put in one of your newsletters.  I'm studying to be a midwife and read that protein gives you energy all day long.  We've been so tired here, that I'm ready and willing to see if this is true!
Does anyone have any tips or recipes for adding protein to dishes without buying the expensive protein powder? I'm especially interested in breakfast dishes, although lunch and dinner are certainly helpful!
Miranda M.
I remember being a little kid growing up in the 1970s when everything was cooked in a microwave. With summer coming up, I was wondering about microwave recipes so the house won't be hot. Does anyone have any really good recipes from the microwave? I remember my mother making a lemon meatloaf in the microwave? Does anyone have a recipe for that?
Donna
We are also still looking for the following:
I would like to ask you and your readers for any recipe suggestions they
may have- over the weekend I attended a plant sale where I ended up
purchasing three varieties of mint plants (chocolate, orange and lemon).
I am sure they will be great with tea but I am looking for other recipes
for things to make with mint leaves. I look forward to hearing from
everyone.
Elisabeth
When I was around 14 I cooked 95% of the meals in our home.  I had a favorite dessert to make.  It was simply called Peach Souffle.  I had gotten the recipe from a friends grandma.  When I moved out I misplaced it, and now I cannot find it anywhere.  The bottom of it was very similar to a peach cobbler (w/o a crust) and the top was a souffle flavored with the syrup from the jarred peaches. Can you please help me find this recipe?
Melissa
My grandmother used to make me chocolate shakes when I was very small, but all I really remember her putting in them was evaporated milk and vanilla extract. She'd make them in mason jars with ice cubes in them and then put the top on and let me shake them. She'd always say the longer you shook them the better they tasted. My mom asked for the recipe years later, and was told that she'd get it when the kids got her recipes when she past. Mema went home last June, but her recipes went with my uncle to Texas, who took quite a few things with him without telling anyone. Can you please help? Thank you so much!
Don

And here are last issue's requests followed by the recipes and ideas submitted since then:
im looking for a recipe my uncle ue to make years ago called chocolate gravy i know it had milk,cocoa,butter, and i think flour but cant remember measurments or directions so if someone has it id love to maek it for my husband and son (mostly cause they think im nuts) and i wanna prove em wrong lol
Trisha
I was looking at some of the recipe requests. Here is one I saw when
searching for
chocolate gravy.
http://allrecipes.com/Recipe/Chocolate-Gravy-II/Detail.aspx
Rebeckah Self
To your reader who requested a recipe for Chocolate Gravy… I found this on the Southern Plate site.  I hope it is what she is looking for.
Shannan
Note – Quite a few other readers also recommended this recipe from SouthernPlate.com
http://www.southernplate.com/2009/05/chocolate-gravy.html
Chocolate Gravy
(pour over biscuits – the scone-like bread, not a cookie)
1 cup white sugar
2 T flour
1 T unsweetened cocoa powder
1 1/4 cups milk
1 tablespoon butter
Combine everything except butter in a heavy saucepan. Bring to boil, stirring constantly to prevent scorching. Once boiling, cut the heat down and stir for a minute more (it will get pretty thick rather suddenly). Take off eye and stir in butter. Pour over biscuits. I tear my biscuit up in a bowl first and then pour it over.
Trish was looking for a recipe for Chocolate Gravy…here is one I found:
INGREDIENTS
1/2 cup butter
4 tablespoons unsweetened cocoa powder
1/4 cup all-purpose flour
3/4 cup white sugar
2 cups milk
DIRECTIONS
Melt butter in a skillet over medium heat. Add cocoa and flour; stir until a thick paste is formed. Stir in sugar and milk. Cook, stirring constantly, until thick.
Susu
For Trisha:
This is a family favorite. We serve it over biscuits for breakfast as
you would biscuits and sausage gravy.
Chocolate Gravy
3 Tbsp butter
3 Tbsp cocoa
3 Tbsp flour
1/2 cup sugar
1 cup milk
Melt butter in saucepan. Stir together cocoa, flour, and sugar. Add
to melted butter and stir the 'roux' until bubbly hot. Add milk all
at once, stir with wire whisk until mixture boils. Remove from heat
and serve over hot biscuits. Enjoy!
Karinda
In response to Trisha looking for chocolate gravy, here's a recipe.
6 heaping Tablespoons Cocoa
2 Cups sugar
Mix together until lumps are gone.
Then add 1 Cup Milk. Whisk it all together.
Boil 3 minutes and let cool. I cook mine in the microwave, stirring
occasionally, so I don't have to worry about it scorching.
Serve over homemade biscuits. They won't think she's nuts after trying it

.
Denise
In response to Trisha's request for a chocolate gravy recipe:
2 heaping Tablespoons all-purpose flour
1 cup sugar
4 Tablespoons cocoa powder
pinch of salt
2 Tablespoons butter or margarine
1 teaspoon vanilla
2 cups milk
Mix dry ingredients in a small saucepan.  Slowly add milk.  Cook on medium heat, stirring constantly until thickened.  Remove from heat; stir in butter or margarine.  Serve on split, hot biscuits.
Sue
Hi my name is Virginia and I live in South East KY when I was growing up
choc. gravy was for special occasions I still love it and make it for friends
and family here goes;
2c.Milk
2c.Water
6 Heaping tbls. of flour
3c. Sugar
3/4c. Hershey coca[baking powder]
Dash of Salt
Add milk and water to med.size saucepan and bring to a boil.
in a med. bowl add dry ingredients with just enough water to mix well.
Add this mixture to milk and water. Reduce heat and cook until desired
consistency. You may add more milk if to thick.
Serve with hot biscuits and butter
Virginia
My husband's Mom made this all the time as a treat for the kids.
Chocolate Gravy,
1 cup white sugar
2 T flour
1/2tps vanilla flavoring (can be omitted without losing a lot of flavor)
1 T unsweetened cocoa powder
1 1/4 cups milk
1 tablespoon butter
Combine everything except butter in a heavy saucepan. Bring to boil,
stirring constantly to prevent scorching. Once boiling, cut the heat
down and stir for a minute more (it will get pretty thick rather
suddenly). Take off heat and stir in butter and vanilla. Pour over
biscuits or toast
Linda
In the "I'm looking for" section of your newsletter, a reader named Trisha
was looking for a Chocolate Gravy recipe. Here's the one I have. It's gotten
me out of the doghouse more than once…lol. Texan that I am, I like it with
a bit of ground cayenne or chipotle powder mixed in but when pacifying my
better half I have to forgo that pleasure. It's good over bisquits,
shortcakes, pies or cobblers.
TR
Chocolate gravy
Ingredients
1 cup white sugar
1 tablespoon self-rising flour
1 tablespoon unsweetened cocoa powder
1 1/4 cups water
1 tablespoon butter
Directions
In a medium saucepan, combine sugar, flour and cocoa powder. Add water and
stir. Bring to a boil over medium heat, stirring occasionally until thick.
Remove from heat and add butter. Serve warm
TR
I read where someone needed a recipe for Chocolate Gravy.  I make it quite often for my Great Grand Children.   So here goes – - -
Chocolate Gravy
The measurements are very simple
1 flour
1 cocoa
2 sugar
1 package of powdered milk  or  enough for a quart.
dash of salt
1 t.vanilla
water
I usually use 3/4 cup measure, so in my biggest frying pan I put starting with the white stuff as not to get cocoa in my flour or sugar, I just dip in and get a cup full.
Put the first 5 ingredients in  and stir it up, I use a whisk, add a little of the water and get all of it wet, no heat yet, then add water until you have added all the quart of water.   Now you are ready for the heat.    Heat it until boiling, or it is making a few bubbles, turn off the heat and add the vanilla, 1 teaspoon should do it.
You should have hot biscuits to put this over.
With a hot biscuit, open it up and put a blob of butter on each piece, then the gravy,
Yummy,   NO food value at all,   It is chocolate, it is good.
Estelle
I'm not sure how to respond to the newsletter but I have a recipe for Trish, she was looking for chocolate gravy. well here it is Trish hope you enjoy!!
2 teaspoons cocoa powder
2 cups sugar
3 cups warm water
1 stick butter
1/2 cup self-rising flour
A pinch of salt
1 teaspoon vanilla
mix the cocoa powder and the sugar in a large pot over medium heat. Add a little water at a time and start stirring. Add the butter, flour, salt and vanilla and keep stirring with a whisk until blended well and the sugar is dissolved. serve with biscuits or on a desert
Tracy N.
Here is a real easy and tasty recipe for CHOCOLATE GRAVY
my family loves it!!!!
1 1/4 cups sugar
4 rounded tablespoon flour
3 1/2 cups milk (may use water)
3 rounded tablespoons cocoa
1/4 teaspoon salt 1 teaspoon vanilla
place this in a heavy skillet
( I make mine in a cast iron skillet)
stir constantly boil until it starts to thicken
you can pour this over pancakes, ice cream or eat it as chocolate pudding
Carol A.
We have a dog and a cat and I was wondering if there were any money saving tips you or readers have for healthy pet feed.
Gayle
Here are a few websites that have Pet Food Recipes (but please
remember if you feed your pets commercial food, don't allow
a dog to eat cat food or vise a versa – dogs & cats have different
nutritional needs).
http://www.healthyrecipesforpets.com/
http://allrecipes.com/HowTo/Homemade-Pet-Food/Detail.aspx
http://searchportal.information.com/
Maureen, MI
This is an idea for Gayle, who wants money saving tips for healthy pet feed for her dog & cat. I do a lot of cooking from scratch, and have been seeing the "gourmet" dog treats popping up everywhere for an outrageous price. I searched the Web and came up with a ton of recipes for homemade dog & cat treats and even every day food for them. I've only tried one of the recipes so far, but my dog ate the treats like they were going out of style, and most of the recipes are made from ingredients most folks already keep on hand.
Kat, Ohio
I have a small dog who is allergic to corn products in commercial dog foods.
I checked with my vet and we came up with the following:
5# ground turkey – cooked
Brown rice – 5-1/2 cups uncooked
1 small bunch of carrots
1 large bag of frozen peas (2#)
1 can low sodium chicken broth
Water – 11 or so cups
Sometimes I divide all of the above and do a double batch because my
pans/bowls don't accommodate all at once preparation.
Brown turkey meat in a skillet.
Add water/chicken broth to rice and cook till rice is tender. (I don't use
instant or minute rice because there is less nutrition.)
Peel and either grate or shred carrots – cook till tender (can add carrots
and peas to rice near the end of cooking time for rice)
Mix all together and scoop with a measuring cup (I use ½ cup) and place
scoops onto foil covered cookie sheet. Freeze.
When "set" and frozen remove and place into Ziploc bags, date and put back
into freezer.
I feed this to my little guy about 3 Tablespoons and 1-1/2 Tablespoon of a
commercial corn-free food and am able to stretch his dog food for pennies
compared to what the commercial product costs me. He supplements with a dry
food and he's a happy little companion.
You can add oatmeal instead of rice (more protein) if you want.
Netdezign2
If she is willing to cook for her pets there are many healthy homemade pet food recipes that I have found on Google.
I have 4 cats and feed them a recipe of:
4-5 Chicken cracasses (usually find this at the Asian food markets and VERY cheap)
1 package Chicken liver
1 package of chicken hearts (extremely important amino acids)
6 -7 egg yolks
some Vitamin E
some Vitamin B
about 4 cups of water
Grind up the carcasses in a meat grinder along with liver and heart then mix everything and freeze some in baggies. The rest gets inhaled pretty quickly.
This recipe is the closest to what animals should be eating in nature and its very healthy and economical too.
Helen
Inspirational Story
A GLASS OF MILK – PAID IN FULL
Author Unknown
One day, a poor boy who was selling goods from door to door to pay his way through school, found he had only one thin dime left, and he was hungry. He decided he would ask for a meal at the next house. However, he lost his nerve when a lovely young woman opened the door. Instead of a meal he asked for a drink of water. She thought he looked hungry so brought him a large glass of milk. He drank it slowly, and then asked, "How much do I owe you?" "You don't owe me anything," she replied. "Mother has taught us never to accept pay for a kindness." He said, "Then I thank you from my heart."
As Howard Kelly left that house, he not only felt stronger physically, but his faith in God and man was strong also. He had been ready to give up and quit.
Year's later that young woman became critically ill. The local doctors were baffled. They finally sent her to the big city, where they called in specialists to study her rare disease. Dr. Howard Kelly was called in for the consultation. When he heard the name of the town she came from, a strange light filled his eyes. Immediately he rose and went down the hall of the hospital to her room. Dressed in his doctor's gown he went in to see her. He recognized her at once. He went back to the consultation room determined to do his best to save her life. From that day he gave special attention to the case.
After a long struggle, the battle was won. Dr. Kelly requested the business office to pass the final bill to him for approval. He looked at it, then wrote something on the edge and the bill was sent to her room. She feared to open it, for she was sure it would take the rest of her life to pay for it all. Finally she looked, and something caught her attention on the side of the bill. She began to read the following words:
"Paid in full with one glass of milk"
Signed, Dr. Howard Kelly.
Final Thought
That's it for this edition of the Hillbilly Housewife Newsletter. I hope you've had as much fun reading it as I had creating it for you. I also hope that you have found the information helpful and useful. And by all means feel free to forward the newsletter to family and friends or even better, encourage them to subscribe to it.
Do you have a question, a tip, a recipe or a story you'd like to share with us? Email it to me and I'll include it in a future issue. Can't wait to see what you have to say.
Warm Wishes,
Susanne – The Hillbilly Housewife
Sponsor