Cowboy Caviar, Homemade Bread and Emergency Preparedness – HBHW Newsletter
April 28th 2009
Editorial
This week's edition of the newsletter looks a little different that what I was originally planning on. The outbreak of the swine flu both in Mexico and parts of the US made me switch gears yesterday. In response to these events, I wrote an article about emergency preparedness that you will find a little further down in this issue. Let's hope this potential pandemic doesn't pan out and if it does that the cases are rather mild the way the current US cases seem to present.
My original plan was to have an overall theme or reusing and repurposing for this edition. We'll talk about that next week instead. Enjoy this issue and stay healthy.
That's it for this week. As always, I welcome your comments and suggestions. Feel free to email me at susanne@hillbillyhousewife.com
Warm Regards,
Susanne – The Hillbilly Housewife
Sponsor
Grab your copy of my Freezer Cooking Made Simple guide at www.hillbillyhousewife.com/ebooks/freezercooking.htm. 
Inspirational Quote
"Never look down on anybody unless you're helping him up." – Jesse Jackson
Reader Question
I have a couple questions about joining the club.
1. It states that I can join today for $10.. will my membership remain at $10 or will next month increase to $15??
2. If I give my CC number, will it be automatically Charged monthly or can I decided monthly if I want to continue.. I don't like the idea of anyone automatically charging to my account…
Thank you for your assistance. And I'm excited to have the newsletter more often.
Louise
Great questions Louise.
1) As a newsletter subscriber you can join the club for $10 per month… that means that your membership dues will stay at $10 for as a long as you decide to stay a member.
2) Your membership will automatically continue (meaning your credit card will automatically be charged each month) until you let me know you'd like to cancel your membership. I've had a few people ask me if they could pay for 6 months at a time instead and that's certainly an option. If you'd like to go that route, email me at susanne@hillbillyhousewife.com and we'll get that set up for you.
News From The HBHW Club
This is a new section of the newsletter. Each week I'm going to share some tidbits of what's going on at the HBHW Club with you. I hope you enjoy these extra tips, recipes and ideas and of course would love to have you join the club. As a HBHW newsletter subscriber, you can join for only $10 per month here:
http://www.hillbillyhousewifeclub.com/special.html
Here's one of the recipes that were submitted this past week.
Cheesy Potato Casserole
2 12 oz pkgs. frozen hash brown potatoes
2 cans cream of celery soup
1 cup sour cream
1 8 oz pkg cream cheese
3 tblsp chopped onion
1 tsp salt
1/2 tsp black pepper
1/2 tsp garlic salt
1 to 2 cups shredded cheddar cheese, depending on how much you want.
Lightly grease casserole dish and put hash browns in. Mix together the remaining ingredients and spread over the potatoes. Top with shredded cheddar cheese and bake uncovered in 325 degree oven for 1 1/2 to 2 hours, or until nice and bubbly.
Some other recipes recently added are:
Chocolate Banana Breakfast Smoothie
Basic Laundry Soap Powder
Sweet-Tangy Cold Spinach Salad
Brown Sugar Raisin Oatmeal
Simply Delicious Spinach Bake
This week there's  been a lot of talk about getting cleaning done. It's interesting to see the different strategies our members are using to keep their houses clean. I'm tying a few new things to see if they are working better for me than my old routines. We are also having an ongoing discussion about kicking the fast food habit.
Ready to join us? We'd love to have you! http://www.hillbillyhousewifeclub.com/special.html
Featured Article
Over the past few days the potential of a swine flu pandemic has been on my mind quite a bit and it prompted me to write this week's featured article about Emergency Preparedness. More than anything else, making sure we are ready "just in case" is making me feel more in control and thus less fearful of what may or may not happen. I hope reading the article and then taking action on what you determine to be appropriate for your family will help you as well.
I'm sure I haven't covered everything we can do to be ready and welcome your comments on the article. Here it is:
Emergency Preparedness – Are You Read For A Pandemic or Other Disaster?
Frugal Tip – Wash In Cold Water

No, I'm not recommending that you take your shower with cold water. But when it comes to your washing machine, cold is usually fine and will get your clothes clean most of the time. Unless I am washing something really dirty, I wash it in cold water with a minimum amount of laundry detergent. My clothes still get clean and smell fresh. I do add a few drops of dawn dish washing detergent on any heavily soiled areas or stains.
Frugal Tips From Our Readers
Here is a cheap window cleaning recipe that uses cornstarch, yes, cornstarch.
To a small pail of tepid water, add a teaspoon of cornstarch. I use paper towels to clean my windows, but this would probably work with lint free cloths, diapers, etc. Apply solution with a damp cloth and polish it off with a dry one. As the cornstarch will not totally dissolve, some will settle to the bottom of the bucket as you work. Just swirl it around as you dampen your cloth.
My neighbor gave me this recipe when I complained that I could never get streak free windows. So, I cleaned my kitchen windows one afternoon and waited for the sun to make it to that side of my house. Sure enough, NO streaks, you really couldn't tell there was glass in the windows ! And, I have cats that during the winter months love to put their little wet noses on the glass as they peer at the birds. Cleans right up.
Betty
Lashmeet, WV
I wanted to share a recipe for powdered laundry detergent with you. I have been using it for the last 8-9 months and love it. I have spend less than $10 during that time on laundry soap. For me, it is easier to store than the liquid.
2 c. finely grated Fels Naptha (you can also use Zote, Ivory, Kirks hardwater Castile. I like the way the Fels Naptha smells)
1 c. Arm & Hammer Washing Soda (it's in a yellow box not orange)
1 c. Borax
I also put in 1 c. baking soda
Mix all ingredients together and store in an air tight container.   An ice cream bucket with lid works well. I find Fels Naptha at Price Cutter.
I also use vinegar as my fabric softener with a few drops of essential oil for fragrance. If you use a Downey ball you can throw it in the wash at the beginning and not have to try to remember to catch the rinse cycle.
Have a good day!
Shelly B
Another thought about freezing the eggs – why not freeze each egg in an
ice cube tray. That way, each egg is separate and easily counted for
whatever recipe you are making.
Connie T
Featured Recipe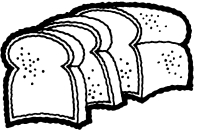 This week's featured recipe is the bread recipe I use every week to bake our bread. It's delicious, very frugal and I think very timely to make it the featured recipe since we are talking about emergency preparedness in this week's issue.
You can bake your own bread in the oven, or if you prefer in a bread maker. You'll find plenty of breadmaker recipe on the HBHW website. If you don't already own a breadmaker, check out your local thrift store. You can almost always find a used one there for a few dollars. Most of the breadmakers I've seen in thriftstores look like they haven't been used at all.
Reader Recipe
This week's reader recipe was submitted by HBHW reader Neita. It's for a bean dip called Cowboy Caviar (love the name
)
Neita says: "This is a quick and a great tasting recipe and I thought you might like to include it in your newsletter one of these days. This was a hit with the church ladies at our monthly gathering."
I'm Looking For:
This section is going to be all about you. If you are looking for a particular recipe or a tip on how to do something, email it to me and I will post it in an upcoming newsletter. I'll give you my input and will also post any suggestions other readers of the newsletter come up with. So take a moment to write me your questions and of course if you have a tip or idea for any question posted in this section feel free to send me that as well.
Here's this week's requests:
I am looking for recipes using canned potatoes.  I had someone give me 4 institutional size cans of white potatoes and I don't know what to do with them besides cooking them on the stove with butter.  What can I do with them?
Sarah L
I am searching for a recipe for "freezer jelly"….particularly strawberry and blueberry.  Can you help me out?
Kelly, York, PA
I was wondering if you or any readers could help me to come up with some dairy-free menus. My son is allergic and I would love to be able to do a menu plan with out too much doctoring. Thanks!
Holly K

We are also still looking for the following:
I have recently rediscovered an old favorite recipe for ginger syrup. I understand it keeps well in the refrigerator for a good period of time. However, I would like to be able to prepare larger amounts and preserve it for even longer time periods, as well as perhaps adding it to gift baskets at Christmas time. Since this would involve mailing, canning would seem to be my only option. I've searched high and low and cannot find any reference to canning this product. I'm hoping you, or one of your readers might have some information that could help me out?
Connie
And here are last issue's requests followed by the recipes and ideas submitted since then:
I am looking for a jello recipe my mother use to make back in the late
50′s.
After making the jello and letting is gel slightly, I believe you would =
beat up an ice cold can of evaporated milk and fold in…not exactly =
sure of the specifics.
I was wondering if you or any of your readers had the recipe?
Barbara C.
Hope I can help Barbara C. with her Jell-o recipe.
My recipe is called Jell-o Fluff.
1 pkg. Jell-0 raspberry
1 3/4 cup hot water
1 cup sugar 1 can milk (13 oz) 1 small can crushed pineapple (8 1/2 oz)
1 box graham crackers. (crushed)
Chill milk in refrigerator. Dissolve Jell-o and sugar in hot water. When Jell-o begins to thicken, whip until
foamy with mixer. Whip milk until thick like whipped cream. Then combine in a large bowl, add pineapple and whip
until well mixed. Cover bottom of baking dish with 1/2 graham cracker crumbs and pour mixure on top. Put other half
of crumbs on top of mixture and chill until firm.
from Carol T. in WV
Barbara C is looking for a jello recipe and I have a bit of info that may help. My mother made a jello salad every year at Christmas. The bottom layer was a large box of strawberry jello made according to the package and allowed to set. The next layer was a small box of lime jello made with one cup of hot water instead of two. To this warm jello mixture you stir in 3 ounces cream cheese and 8 ounces mini marshmallows until the cream cheese and marshmallows are slightly melted. Then stir in a small can of crushed pineapple (I have left this out and it's still good), 1/2 cup mayo and (here's the part that's pertinent to the request) a 5 oz can of evaporated milk that has been whipped. I chill the milk, the bowl and the beaters and it whips up very nicely. Then you pour this over the set strawberry layer and let the whole thing chill until set. This is a family favorite!
Jane in NC
For the one looking for the old Jello recipe:
I often make Jello, using a little less water than called for; let it sit in
the refrigerator just until it starts to thicken; then add cold canned milk
and whisk it thoroughly. This makes a light fluffy gelatin with a bit of
added nutrition.
I also buy the large bags of gelatin at a restaurant supply place and save
money that way because I use a lot. Farmer Brothers is the place I get
mine.
Anonymous
I am newly on WIC and receive evaporated milk and am not sure what to do with it.  I do not want to waste things, but it is currently just collecting in my cabinet.  Anything you can offer is appreciated.
Kristen
I love using Evap milk in various ways.  Here are a few…Enjoy!
Great  way to perk up boxed mac n cheese–use evap milk and some shredded cheddar if you have it and boy is it creamy!
Substitute evap milk when baking or making french toast to save the regular milk for cereal & drinking.
Use evap milk in tea for an oh, so creamy cup of tea–my children LOVE this and say so every time (great for a tea time story with your choice of tea coookies!)
Evap milk in cream soups is a must–nothing I can say but YUM!!
Michelle
Evaporated milk can be used as an appropriate milk source by combining it with equal parts of water. While I don't think I'd want to drink it, and the children object to it in their cereal as well, I do use this option in pretty much any recipe calling for milk. I put evaporated milk in homemade macaroni and cheese, gravies and sauces that call for milk, etc. It gives a really rich flavor to your recipes. In addition, my mother-in-law's 'tomato gravy' recipe follows…my whole family loves this:
Tomato Gravy
1 can tomatoes (whole or diced)
1/4 cup evaporated milk
salt and pepper to taste
Heat tomatoes in a small pot. Either diced or whole tomatoes may be used, but whole tomatoes tend to give a fuller flavor; if whole tomatoes are used, cut into small pieces, either by using two knives as if you were 'cutting butter' into flour, or a potato masher works well. As tomatoes heat, add salt and pepper to taste. When they are heated almost to a boil, add evaporated milk, stir well, and allow to reheat. (I turn off the burner once steam begins to rise from the pot, which is generally pretty quick.) This is a wonderful topping for rice or biscuits. Hope this helps!
Annonymous
Evap. milk can be used in a
pinch as a substitute in baking recipes. I've even used it by
reconstituting: shake well, pour out milk into a container,
then refill can with water and add to milk. The flavor is different,
but it works. Evap. is used in some soup recipes as
well, or one could use it in making a white sauce (as in old-
fashioned macaroni 'n cheese) or gravies.
Stephanie
Evaporated milk is usually a key ingredient in desserts like pumpkin pie. I often buy a load of it when it's on sale in the fall and use it throughout the year in other ways:
instead of milk in:
tea or coffee
mac n cheese
various bread recipes
any sort of sauce– it really beefs up a white sauce:
White sauce: melt 1/4 c. butter/margarine, stir in 1/4 flour until golden brown, add 1 c. milk or 3/4c. evap milk mixed with 1/4 c. water. Simmer this until it coats the spoon. The amount of flour can be less if you want a thinner sauce– added cheese, cooked sausage, or various herbs or substituting sherry or wine for some of the water changes the flavor. I end up using this a lot for stovetop cooking.
Karen K
Each state runs WIC its own way. She should inquire with WIC to see if
there is anything she can substitute the evaporated milk for. For example,
here in NY we can get milk or dry milk or cheese or tofu with the dairy
portion of the program. How it is split up is up to the participant when
they go sign up for the program.
People should also know that many WIC offices offer breastfeeding services
like peer counseling, pumps, lactation consultants, nipple shields,
replacement pump parts, lanolin, breastfeeding literature, etc. These are
all free services to any pregnant or postpartum woman who participates in
the program.
The food package offered (at least in NY) is larger for a breastfeeding mom,
and of course the baby gets superior nutrition! It is also possible to
receive a partial breastfeeding/partial formula package if you have
breastfeeding difficulties. In addition, if you continue to breastfeed you
can remain on WIC your baby's whole first year. If you stop breastfeeding
you may only remain on the program for 6 months postpartum.
Holly
Breastfeeding Peer Counselor, WIC
In response to Kristen's question about evaporated milk. I use
evaporated milk in place of drinking milk in all recipes that call for
milk. Open can, pour into a jar, add one can of water. This is like whole
milk. It makes great bread, and sauces. It's wonderful to cook with. As
long as it isn't fat free you can use it to make pudding also.
Kayle
This is in response to the lady who was on WIC and had too much evaporated milk.  There is a tater tot casserole recipe on the Duggar Family web site that uses a whole can in it.  I make this casserole about once a month because it is too rich to have more often, but my family would eat it every week if? I fixed it.  I cut the recipe in half because on their site the recipe makes 2 9×13 pans. I guess you could freeze one but I haven't done that. Hope you like it.
KR
For the reader wondering what to do with evaporated milk, there are lots
of uses, and I always have it on hand.
First, it's a great coffee creamer, and much healthier than powdered
creamers. Add a splash to a cup of cocoa made from a commercial mix,
which never seem rich enough. My mother always added it to mashed
potatoes, and I do the same – it makes them velvety and creamy. Use it
in macaroni and cheese, sauces, canned tomato soup – any cooking use for
milk (cut in half with water, or use full-strength for a richer taste).
It's wonderful in bread or rice puddings, and makes instant pudding
taste creamer and more like homemade. Add a can to a pitcher of
home-mixed powdered milk to make it more like regular milk. Pour over
berries, fruit pie or any dessert you might pour cream over. Delicious
on oatmeal. The list goes on and on…
Evaporated milk is definitely a versatile, worthwhile staple to keep on
hand for a variety of uses.
Diva

I was wondering if you or any readers have a make it yourself ironing spray recipe.
Gayle G.
On your recent post a reader asked if there was an alternative to fabric
spray for ironing. I have always used liquid starch (found in the laundry
section of the grocery store). Dump this into a spray bottle – 50% liquid
starch and 50% water. Shake before using.
Denise S
After reading this week's newsletter, I found a recipe for Laundry Starch that one of the readers requested. It is as follows:
Laundry Starch
1 cup water
2 tablespoons cornstarch
2 drops of essential oil of choice(use a clear oil like tea tree oil for light colors)
1/2 cup cooled black tea(for darker colors only)
Combine all ingredients in a spray bottle. Shake well before each use. Lightly spray and iron as usual.
Angee T. a.k.a. 1neatmom (her HBHW Club username)
Inspirational Story
GOD.COM
Author unknown – sent in by HBHW reader Roslyn G.
Dear Lord,
Every single evening
As I'm lying here in bed,
This tiny little Prayer
Keeps running through my head:
God bless all my family
Wherever they may be,
Keep them warm and safe from harm
For they're so close to me.
And God, there is one more thing
I wish that you could do;
Hope you don't mind me asking,
Please bless my computer too.
Now I know that it's unusual
To Bless a motherboard,
But listen just a second
While I explain it to you, Lord.
You see, that little metal box
Holds more than odds and ends;
Inside those small compartments
Rest so many of my friends.
I know so much about them
By the kindness that they give,
And this little scrap of metal
Takes me in to where they live.
By faith is how I know them
Much the same as you.
We share in what life brings us
And from that our friendships grew.
Please take an extra minute
From your duties up above,
To bless those in my address book
That's filled with so much love.
Wherever else this prayer may reach
To each and every friend,
Bless each e-mail inbox
And each person who hits 'send'.
When you update your Heavenly list
On your own Great CD-ROM,
Bless everyone who says this prayer
Sent up to GOD.Com
Amen
Final Thought
That's it for this edition of the Hillbilly Housewife Newsletter. I hope you've had as much fun reading it as I had creating it for you. I also hope that you have found the information helpful and useful. And by all means feel free to forward the newsletter to family and friends or even better, encourage them to subscribe to it.
Do you have a question, a tip, a recipe or a story you'd like to share with us? Email it to me and I'll include it in a future issue. Can't wait to see what you have to say.
Warm Wishes,
Susanne – The Hillbilly Housewife
Sponsor