Friday, November 21st, 2008
It's time to vote for your favorite crafting website. We've gotten some great submissions for just about any type of crafting and for any age range (kids or adults). It will be fun to see who will come out a winner in this one. There are some big websites in there. Good luck to all contestants.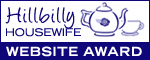 Take a moment to vote for your favorite. Voting will end on November 30th and the winner will be announced in early December.
Susanne – The Hillbilly Housewife