Banana & Carrot Salad
Disclosure: Some of the links below are affilate links, meaning, at no additional cost to you, I will earn a commission if you click through and make a purchase.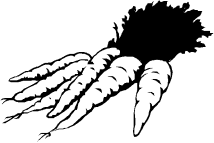 2 cups shredded carrots
2 bananas, sliced
2 tablespoons lemon juice
2 tablespoons sugar
1/3 cup yogurt or sour cream
First shred your carrots. You can peel them before hand or not as you see fit. Then shred them on a cheese grater by hand, or in the food processor if you have electricity. Peel the bananas and slice them into 1/2 inch rounds. Place them in a bowl and sprinkle them with the lemon juice. This will keep them from turning brown, and also make the salad a little tangier. Add the shredded carrots, sugar and yogurt or sour cream. I prefer it made with yogurt, but some folks swear it isn't right unless you use sour cream, so make your own choice according to the ingredients you keep on hand. Stir it all up gently and chill. Stir before serving. This salad is a real kid pleaser, it is sweet, and orange, and smiles at them from their plate. You can serve it on lettuce leaves to be fancy, or just put a glob on the plate next to the fried tofu. Serves 6.