Savory Creamy Chicken Breasts – Crockpot
5 chicken breasts, halves, boned and skinned
2 tablespoons butter or margarine
10 3/4 ounces cream of chicken soup (or homemade cream of anything soup)
1/2 cup celery
1/2 cup chicken broth
1 teaspoon tarragon or rosemary leaves
1 teaspoon Worcestershire sauce
1/4 teaspoon garlic powder or garlic
Salt to taste
1 8-ounce can mushrooms, drained
This recipe makes 5 servings.
Rinse chicken breasts and pat dry; place in Crock-Pot. In a saucepan, combine remaining ingredients and heat until smooth and hot. Pour over chicken breasts. Cover and cook on low setting for 8 to 10 hours.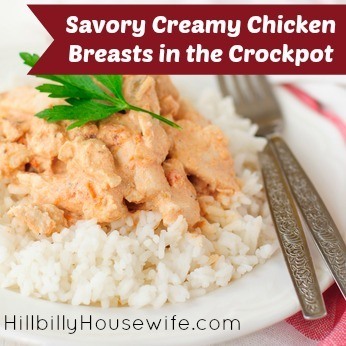 Ready for More Crockpot Recipes?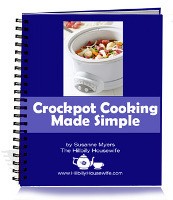 Get my Crockpot Cooking Made Simple ebook today and find out how you can work your crockpot into your meal plan, how to choose a good crockpot, and even how to convert your favorite recipes to work in a slow cooker.
Click on and order your copy of Crockpot Cooking Made Simple today!
http://www.hillbillyhousewife.com/ebooks/crockpotcooking.htm