Apple Crisp
Disclosure: Some of the links below are affilate links, meaning, at no additional cost to you, I will earn a commission if you click through and make a purchase.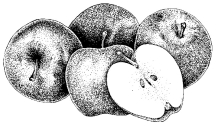 6 cups of sliced, peeled, & cored apples (or peaches or pears)
1 tablespoon lemon juice
1 cup rolled oats
1/3 cup whole wheat flour
1/2 cup brown sugar
1/2 teaspoon cinnamon
1/8 teaspoon cloves
1/3 cup soft margarine
Get out a two quart casserole dish and oil it well. Place the prepared apples or peaches into the dish and sprinkle the lemon juice over them. Set them aside. In a medium sized bowl, combine the oatmeal, flour, brown sugar, cinnamon and cloves. Add the margarine. If the margarine is soft, it will be an easy matter to mix it in with a fork. If the margarine is hard, you can melt it in the microwave or in a small pan on the stove. The topping will be a little less crumbly, but still very good. After the oatmeal mixture is well mixed and crumbly, scatter it over the apples in the casserole. It will cover them thickly. Now put the casserole in the oven and bake it at 350° for about 40 minutes. Remove from the oven and serve hot with whipped cream or Whipped Topping. Serves 6. This is really good made with peaches or pears too. Choose which ever fruit is most abundant. Peaches in the summertime, apples and pears in the fall and winter.